Overview
iTop VPN has quickly built a strong reputation in the VPN industry due to its exceptional speed and ability to bypass regional restrictions, despite being a newcomer. It takes pride in its strict no-logs policy, ensuring users' activities remain private. Intrigued by its claims, I decided to put iTop VPN to the test and evaluate its suitability as a VPN solution.
After conducting an extensive trial over several days, I can confidently endorse iTop VPN as a service worth considering. Its unwavering commitment to maintaining a log-free environment and utilizing top-of-the-line encryption establishes it as a trustworthy option for safeguarding your online presence. Additionally, the connection speeds provided by iTop VPN are highly impressive, guaranteeing seamless and rapid data transmission. The presence of dedicated servers for activities like torrenting, gaming, and streaming further enhances its appeal. Moreover, the pricing is reasonable, making it accessible to a broad range of users.
What sets iTop VPN apart is its offering of a free plan and a money-back guarantee. With the free plan, you can experience its features without any initial cost. Meanwhile, the money-back guarantee within the first 7 days of a monthly subscription or the first 15 days of a six-month or twelve-month subscription provides added reassurance. This way, you can explore iTop VPN risk-free and easily opt-out if it doesn't meet your expectations.
Short on time? Here's a 1-Minute Summary of iTop VPN's key points:
Unblocks popular streaming sites like Hulu, Disney+, Amazon Prime Video, and BBC iPlayer.
Impressive speeds on both local and distant servers.
Decent server infrastructure with 100+ virtual servers worldwide.
Easy-to-use native apps for major desktop and mobile operating systems.
Responsive ticket system for customer support; no live chat available.
Money-back guarantee within 7 days for monthly subscriptions and within 15 days for longer plans.
iTop VPN successfully bypasses restrictions to unblock Hulu, Disney+, Amazon Prime Video, and BBC iPlayer. However, it does not have the capability to access Netflix and HBO Max.
To my delight, I quickly gained access to Hulu, Disney+, Amazon Prime Video, and BBC iPlayer through iTop VPN's optimized streaming servers. The streaming quality was exceptional, offering seamless UHD streaming without any lag or buffering issues.
While the free version of iTop VPN does provide some unblocking capabilities, it's essential to acknowledge that its effectiveness may not match that of the paid plan. For budget-conscious users, this could be a crucial factor in their decision-making process. Regrettably, despite the optimized streaming servers, I encountered difficulties accessing Netflix and HBO Max.
iTop VPN successfully unblocks Hulu, Disney+, Amazon Prime Video, and BBC iPlayer.
My experience with iTop VPN revealed it to be an excellent choice for streaming on Hulu, thanks to its optimized U.S. server, providing a seamless viewing experience. Moreover, it effortlessly unblocked Disney+ as well.
Despite the absence of Amazon Prime Video-specific servers, I successfully streamed it using the same server that allowed access to Disney+. Randomly selecting a US server also enabled me to connect to the platform. Additionally, I encountered no issues while accessing my BBC iPlayer account with the Quick Access server.
Netflix and HBO Max: Not accessible.
Despite successfully logging into Netflix using the suggested optimized server, I was disappointed to discover that the content for my location remained inaccessible. Attempting to access other US servers only allowed me to watch Netflix Originals, but the full library remained blocked.
This is not surprising, as Netflix employs robust VPN-detection tools, making it challenging for most VPN services to access the US Netflix library.
A similar experience occurred with HBO Max, where I could access the library but couldn't play any shows. My efforts to resolve the issue by switching to alternative US-based servers proved futile.
When it comes to streaming services, ExpressVPN stands out as one of the most reliable and trustworthy options. My tests demonstrated that ExpressVPN easily bypasses geoblocks for Netflix and HBO Max, making it an excellent choice for accessing these platforms.
Speed
Fast and seamless connection speeds
When connected to iTop VPN servers, I experienced minimal changes in speed, as it provided speeds very close to my base speed. However, premium account holders may derive the greatest benefit from this service, enjoying unrestricted data usage without any limitations.
Conversely, users who choose the free version of iTop VPN for PC will have their daily data usage restricted to 700MB. The Windows client includes a meter to help track the remaining daily bandwidth allowance when disconnected.
These are the outcomes of the speed tests.
After conducting thorough testing, iTop VPN proved to deliver on its promises of consistently fast speeds. To verify its performance, I utilized Speedtest by Ookla to measure my download and upload speeds on three distinct servers. Before using iTop VPN, my internet connection averaged 49.53 Mbps download speed and 25.61 Mbps upload speed.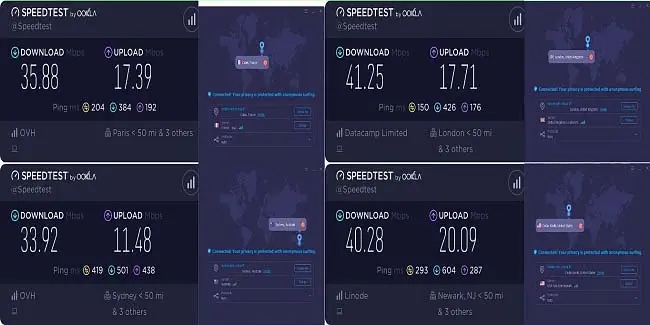 During my testing, I observed that the UK server in London exhibited the fastest average speed, with the US and France servers following closely behind. To my surprise, even the Australia server, despite its geographical distance, performed admirably during the speed test. Overall, I found myself satisfied with the speed and overall performance of iTop VPN.
Is the iTop VPN fast enough for gaming? Absolutely!
When gaming on iTop VPN's dedicated gaming servers, I noticed minimal fluctuations in my connection speed. iTop VPN provides specialized gaming servers designed for popular games such as Lost Ark, Minecraft, PUBG, Roblox, and Call of Duty: Warzone. This makes it a great option for gamers who want to improve their gaming experience. Moreover, the Android app provides additional optimized servers for games like Free Fire, Genshin Impact, Brawl Stars, Roblox, Call of Duty Mobile, and LOL: Wild Rift.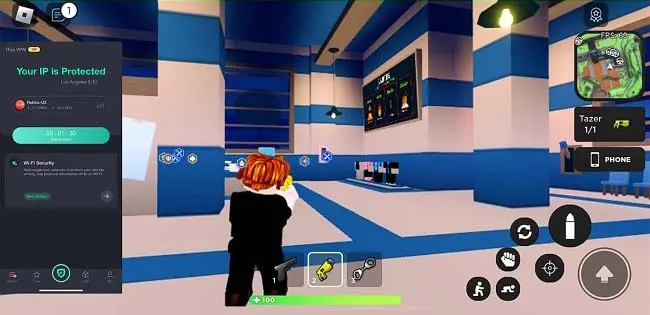 Achieving a low ping is crucial for an optimal gaming experience. To test iTop VPN's gaming-optimized servers, I checked the ping times on nearby servers, which ranged from 46 to 89 milliseconds. Notably, when gaming on the dedicated Roblox USA server, I enjoyed a smooth gaming experience without any problems like high average ping, freezes, or blackouts.
The Futility of Most Speed Tests and a Proper Approach to Evaluate VPN Speeds
Speed plays a crucial role in determining the pace at which content uploads, making it essential to have a comparable speed for activities like torrenting or streaming. When using a VPN, the encryption process typically adds a slight delay in transmitting data, leading to potential slowdowns in your connection. However, in cases where your Internet Service Provider (ISP) intentionally throttles your connection, using a VPN might actually improve your internet speed.

Conducting speed tests for VPNs can be somewhat futile due to the constant emergence of new servers, impacting the overall speed. Moreover, individual speed results may vary depending on your geographical location, making it difficult to align your speed test with ours. Despite these challenges, we diligently tested the speed across numerous locations to provide you with an average estimate.
Servers
Server Network – Offering a vast network of over 1800 IP addresses spread across 100+ locations.
iTop VPN offers premium users the ability to connect to its extensive network of 1,800+ servers distributed across 100+ countries, encompassing locations such as the United States, United Kingdom, Germany, India, Australia, and Japan. It's important to note that iTop VPN operates virtual server locations, granting access to IP addresses in diverse countries, while not providing any physical server locations.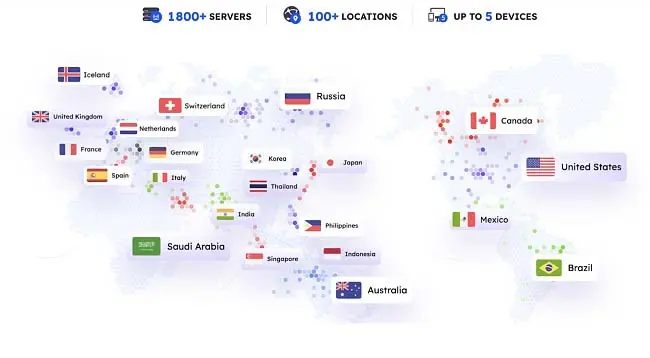 Free-tier subscribers on iTop VPN have access to a selection of 20 different server options. However, upgrading to the premium plan unlocks a broader range of servers, with the provider claiming to reduce latency and enhance web browsing speed by up to 10 times.
The servers offered by iTop VPN are conveniently organized into specific tabs catering to various uses, such as video streaming, online gaming, social networking, and torrenting. The selection of optimized server options available to you is influenced by your location, ensuring the fastest internet speed and ample bandwidth. For more customized needs, you can explore the "All Services" tab to view a comprehensive list of iTop VPN servers. It's worth noting that all servers are exclusively accessible to paying subscribers.
Each server option is accompanied by a performance icon, providing real-time data on the server's health. The color-coded system allows for quick identification of fast and slow servers. Additionally, the platform offers ample information about the servers, allowing you to determine which ones are most suitable for your streaming, P2P, or gaming requirements based on server load.
While iTop VPN boasts servers in numerous countries, it's true that other VPN providers offer larger server networks at more competitive prices. For instance, Cyberghost provides access to a staggering 9,500+ servers for as low as $2.19 per month. Larger server networks reduce the likelihood of encountering server congestion when attempting to connect to specific locations.
Security – Robust Military-Grade Encryption
iTop VPN puts your data security first, offering a range of advanced features to safeguard you. Although some of these features are exclusively available to paid Windows users, iTop VPN provides strong encryption to safeguard the personal information of all users.
The security features provided by iTop VPN comprise:
Three Protocol Options: iTop VPN allows you to choose from three protocols for data transmission security – HTTPS, UDP, and TCP. TCP ensures added protection for sensitive activities like online shopping and banking, UDP enhances connection speed for gaming and streaming, while HTTPS unblocks restricted sites and adds an extra layer of encryption to your data. Users can manually select a protocol or opt for the Auto mode when connecting to a server.
Military-Grade Encryption: iTop VPN utilizes powerful 256-bit encryption to ensure the security of both inbound and outbound data traffic, even when connected to public WiFi networks.
Kill Switch: iTop VPN's kill switch blocks internet access in case of VPN disconnections, ensuring continuous protection. The desktop floating widget facilitates easy access to this feature. However, it would be advantageous if the kill switch also prevented traffic from passing through the network when the VPN is disabled.
Split Tunneling: This feature enables users to direct specific data through the VPN tunnel, while regular traffic uses the standard data connection. It prevents VPNs from slowing down the connection and allows regular traffic to function at its usual speed.
Adblock: The ad block function prevents ransomware and malware infections by blocking links to malicious websites. Users have the option to customize ad block settings for selected sites. This feature is accessible to both free and paid subscribers.
Static IP: Offering dedicated addresses for secure access to private servers and smoother banking transactions, the static IP feature has certain anonymity trade-offs. However, during testing, no significant difference in IP assignment behavior was observed between dynamic and static IP options.
Security Reinforce: This feature strengthens your computer's protection against identity theft and hacking. It identifies security vulnerabilities, offers advice on how to fix them, and implements changes instantly to keep your device safe.
DNS Protection: Preventing malicious software from altering your DNS settings, this function enables you to choose between your current DNS configurations or recommended options from Google, Verizon, OpenDNS, or Comodo.
IPv6 Support: iTop VPN's support for IPv6 ensures access to the internet with the most up-to-date IP address scheme, allowing efficient traffic routing and secure content delivery.
IP Checker: A web-based tool that displays your IP address in real-time whenever you connect to the server network.
During comprehensive leak tests on both Windows and Mac machines, iTop VPN's leak protection effectively performed as advertised, with no leaks detected. This highlights the reliability and efficacy of iTop VPN's leak protection tools.
Furthermore, iTop VPN leverages IPv6 connections to bolster security and prevent my Internet Service Provider (ISP) from detecting my IP address. This additional measure ensures the utmost privacy and security for my online activities.
Privacy – Strict Zero Logging Policy
When it comes to preserving your online anonymity, iTop VPN has got you covered with its log-free VPN service. My investigation into iTop VPN's privacy policies substantiated the company's assertion that it refrains from recording or storing any activity logs.
iTop VPN does not track your IP address or monitor the websites you visit. However, to confirm accounts and provide services, the company retains contact details such as email addresses and phone numbers. These practices align with acknowledged industry standards and do not contravene iTop VPN's no-logging policy.
The most dependable VPNs typically operate their own DNS servers, a crucial aspect in preventing your real ISP or any other entity from monitoring the websites you access through the VPN. Although iTop VPN does not provide its own DNS servers, it does offer a list of popular alternatives.
iTop VPN is based in Hong Kong, which places it outside the jurisdiction of the 5, 9, or 14 Eye Alliances, ensuring that it is not obligated to disclose user information. Although some may express concern about Hong Kong's national security cooperation with China, iTop VPN reassures its customers that it refrains from storing any data that could potentially identify or harm them.
However, it's essential to note that unlike many top VPNs in 2023, iTop VPN has not undergone an independent audit. This lack of third-party evaluation can impact the assessment of the VPN's safety and anonymity. To guarantee the highest levels of privacy and security, exploring alternative audited solutions becomes imperative.
Torrenting – Enables P2P File Sharing
iTop VPN allows torrenting and peer-to-peer traffic, but exclusively on specific VPN servers. These supported servers are conveniently identified by a P2P logo in the app's server list. They are located in five countries: the Netherlands, Romania, Spain, Switzerland, and Germany. It's important to be aware that access to these servers is restricted to paid subscribers only.
During my testing, I found that iTop VPN's torrent-optimized servers facilitated fast and seamless downloads of large data files. Moreover, the VPN offers a kill switch feature, ensuring your anonymity remains intact in case of disconnection, and adheres to a strict no-logs policy, guaranteeing the privacy of your file-sharing activities.
It's essential to be mindful of the laws in your country concerning the downloading of files protected by intellectual property rights. To steer clear of potential legal issues, it is advisable to only download torrents that are copyright-free.
Is iTop VPN Effective in China?
As I am currently not in China, I cannot personally verify the functionality of iTop VPN within the country. However, I reached out to iTop VPN's support service, and a company representative has confirmed that the service is not operational in China.
It is essential to acknowledge that a VPN's effectiveness in bypassing strict censorship laws often relies on its use of advanced obfuscation technology. Given that iTop VPN lacks such technology, it is highly improbable that it would function as intended in a country with stringent censorship regulations like China.
Despite the ongoing efforts by the Chinese government to censor VPN services, ExpressVPN has consistently proven to be a reliable choice for those seeking a VPN for use in China.
User Experience
Simultaneous Device Connections — Allows you to connect up to 5 devices at the same time.
If you need to connect multiple devices to a VPN, iTop VPN offers a suitable choice. With a single subscription, you can simultaneously connect up to 5 devices without experiencing any speed or performance issues. This includes various devices such as desktop computers, laptops, smartphones, and other compatible gadgets.
On the other hand, CyberGhost allows for an even higher number of simultaneous connections, with a limit of 7. While this might make CyberGhost more appealing for users with many devices, it's essential to consider that CyberGhost is generally more expensive than iTop VPN. Your decision between the two VPNs will depend on your specific requirements and preferences.
Device Compatibility — Compatible with Major Device Types
iTop VPN offers native apps for Windows, Android, macOS, and iOS devices. However, it currently does not provide a browser extension, a smart TV-compatible app, a router app, or a Linux client. This limitation might be a drawback for users seeking a VPN that can secure all their internet-connected devices. Nevertheless, iTop VPN remains a reliable choice if your primary concern is securing your computers and mobile devices.
For those in need of a VPN with broader compatibility, ExpressVPN is an excellent option. It supports smart TVs, offers dedicated router apps, and provides great browser extensions. Additionally, ExpressVPN offers a Linux client, ensuring comprehensive protection for all your devices.
Ease of Setup & Installation — Simple and User-Friendly Installation Process
Setting up and using iTop VPN is a quick and straightforward process that can be completed within a few minutes. To begin, simply choose a plan, select a payment method, and enter your email address.
Once the program is installed and running, you can easily connect to the closest server for optimal web browsing by clicking the prominent "Connect" button in the center.
iTop VPN's Smart Location feature automatically connects you to the least busy server in your vicinity for enhanced performance. Alternatively, you have the option to manually select a server from the home screen. The home screen also provides convenient shortcuts for viewing your current speed and adjusting security settings.
Navigating iTop's settings menu is user-friendly, with primary controls located on the left and additional settings accessible through a drop-down menu. The Windows app for iTop VPN is designed for simplicity, allowing you to customize settings according to your preferences. These settings include extras such as a kill switch, split tunneling, Quick Access, and DNS leak protection.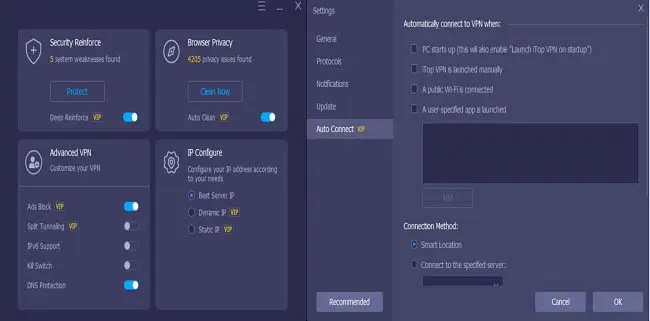 In summary, iTop VPN offers an easy-to-use interface and a hassle-free installation process, making it a user-friendly option for securing your internet connection.
iTop VPN Chrome Extension
iTop VPN is distinguished by its simple installation process and intuitive user interface. iTop VPN does not need the installation of any software or the setup of an account. A Google Chrome browser and a few easy clicks would suffice. To get the iTop VPN Chrome extension and use it without any restrictions, follow these steps:
Check Out iTop VPN's Website
Go to the iTop VPN website as the first step. All of iTop VPN's features and information are available here. Additionally, you may read some evaluations and testimonies from other consumers and professionals.
There's a large button on the homepage that reads, "Get iTop free VPN to enjoy unlimited & private access." In order to get the iTop VPN extension, you must click this button. As an alternative, you may also click the "Chrome" symbol located in the website's upper right corner.
Install the Extension on Your Chrome Browser
You will be sent to the Chrome Web Store after clicking the button, where the iTop VPN extension is available. A synopsis of the extension, a few screenshots, and some ratings and reviews will all be shown.
You must click the "Add to Chrome" button in the upper right corner of the page in order to add the extension to your Chrome browser. You'll be prompted with a pop-up window to confirm your selection. Select "Add extension" to continue.
Log In With Your Existing Account or Make a Free New One
An iTop VPN icon will appear in your toolbar as soon as you apply the extension to your Chrome browser. You may use and manage the iTop VPN plugin from here.
You must log in with your account or create a new one in order to use the iTop VPN extension. In order to accomplish this, select "Sign in" after clicking the iTop VPN icon in your toolbar. Your email address and password can be entered on the sign-in screen that appears. Click on "Create Account" and follow the steps if you don't already have an account. You will get a welcome page with various iTop VPN features and suggestions after logging in with your account. Additionally, the IP address, connection status, and server location are displayed.
Select a Server from the List
You are now prepared to utilize iTop VPN after logging in with your account. You have the option of selecting a server from the list or having the best server connect to you automatically.
Click the flag icon next to the switch button to select a server from the list. A list of servers divided into regions—the Americas, Europe, Asia Pacific, Middle East, and Africa, for example—will appear. Additionally, certain dedicated servers for social networking, gaming, and streaming are visible. You only need to click on the server you want to use and wait for it to connect.
Click the switch button to establish an automated connection to the best server. The optimal server will be chosen by the iTop VPN plugin based on your location and network conditions. When it is linked, a green checkmark will appear.
Use iTop VPN for Safe, Quick, and Limitless Browsing
Well done! The iTop VPN Chrome extension has been installed and used successfully. With iTop VPN, you may now browse in safety, speed, and limitlessness.
Clicking the gear icon in the lower right corner of the iTop VPN extension will also allow you to access some of its features and settings. Numerous settings, including auto-connect, kill switch, split tunneling, ad blocker, browser history cleaner, and security reinforcement, are modifiable.
Hovering your cursor over the iTop VPN symbol in your toolbar will also allow you to see your connection status, IP address, server location, and data use. By pressing the switch button or flag icon once again, you can disconnect or switch servers at any moment.
And that's it! You now know how to get the iTop VPN Chrome extension and use it for free. It's really basic and easy, isn't it? With iTop VPN, you can now access the internet freely, safely, and secretly.
Install and Setup iTop VPN
Register an account by visiting the official website, providing genuine information, selecting the desired subscription, and activating it.
Download the Windows client by proceeding to download the iTop VPN Windows app from the official website.
Install the application by accessing the downloaded file in your computer's "Downloads" folder, and then double-clicking it to initiate the setup wizard.
Sign in to your account by launching the app and using the login credentials you created in step 1.
Select a server by picking your desired location from the list of available options.
Establish the connection, and you can now safely and securely browse the internet using iTop VPN.
Support
Even for paid members, iTop VPN does not offer a dedicated support system. The available ways to contact iTop regarding VPN issues are limited to an online form or Facebook Messenger. I decided to test the responsiveness of the support system by inquiring about the service's compatibility with China. Fortunately, I received a response within 24 hours.
Aside from reaching out to support, users can refer to the FAQs and blog posts to check if their questions have already been addressed. However, the website's navigation is quite challenging, leading me to resort to using Google to find answers to most of my inquiries. The absence of a comprehensive knowledge base or central location for questions is undoubtedly a disadvantage.
Customer Support Testing Process and Its Significance for You
As part of our VPN reviews, we conduct thorough testing of each provider's customer support team. This involves asking technical questions via live chat (where available) and measuring the response time for email inquiries. Whether you require assistance with server connections, security protocol changes, or VPN configuration on your router, prioritizing a VPN with reliable and quality customer support is essential for a smooth and satisfactory user experience.
Pricing
iTop VPN offers flexible pricing options, making private internet browsing accessible even for tight budgets. These packages vary from one-month to three-year plans and come with features like unlimited data transfer, access to specialized servers for streaming and torrenting, ad and malware protection, and enhanced browser privacy.
For occasional VPN users, the provider's free option may be more suitable. Despite having fewer servers, a daily data limit of 700 MB, and slower connection speeds, its free features are adequate for casual browsing.
If you're uncertain about using iTop VPN, you can test its services risk-free thanks to the money-back guarantee. Monthly subscribers have a 7-day window, while 6-month and yearly subscribers get 15 days for a full refund. I personally put this guarantee to the test and received my refund within 2 days.
iTop VPN allows payments through PayPal, major credit cards, and electronic bank transfers. Additionally, you have the option to set up automatic renewal to avoid the hassle of manually extending your subscription.
Alternatives
ExpressVPN: Known for its fast speeds and extensive server network, ExpressVPN offers top-notch security and excellent customer support. It's a popular choice for users seeking a reliable and user-friendly VPN.
NordVPN: NordVPN is known for its strong privacy features, large server network, and the ability to bypass geo-restrictions. It's a solid option for those looking for robust security and versatile functionality.
CyberGhost: With a user-friendly interface and optimized servers for various activities, CyberGhost is a good choice for beginners. It provides strong security features and a wide range of server locations.
Surfshark: Surfshark offers unlimited simultaneous connections, making it ideal for users with multiple devices. It also boasts strong privacy features and good performance.
Private Internet Access (PIA): PIA is a budget-friendly option with a focus on user privacy and security. It offers a large server network and supports advanced features like port forwarding.
VyprVPN: VyprVPN is known for its proprietary Chameleon protocol, designed to bypass strict censorship and provide enhanced privacy. It offers good speeds and a range of server locations.
Final Words
Based on my experience with iTop VPN, I believe it is a suitable choice for VPN users of all levels of expertise. This VPN stands out from others by enforcing a strict privacy policy, ensuring complete confidentiality of your online activities. Moreover, its advanced features and vast network of over 1800 servers worldwide enhance both security and speed.
The interface of iTop VPN is simple and user-friendly, with its functions thoughtfully arranged to prioritize the user experience. Additionally, its optimized servers for gaming, streaming, and peer-to-peer activities make it an excellent option for these purposes. The availability of 700MB of daily free data further adds to its appeal for those in need of a free VPN.
However, there are some drawbacks to using iTop VPN. It is not as compatible with as many devices as some other VPNs, and it lacks features like live chat support and global server availability.
Despite these limitations, iTop VPN provides satisfactory all-around service at an affordable price. For those seeking an alternative, CyberGhost is an excellent choice. You can try CyberGhost yourself, and if you are not satisfied with the service, you have the option to request a refund within 45 days.

---
FAQs
How does iTop VPN work?
iTop VPN encrypts your traffic and routes it through a server in a different location. This creates the impression that you are accessing the internet from that specific location. This can be used to unblock websites and apps that are blocked in your region, protect your privacy online, and improve your online security.
Is iTop VPN safe to use?
iTop VPN uses military-grade encryption to protect your data from prying eyes. It also has a strict no-logging policy, which means that it does not store any of your personal data. This makes it a safe and secure VPN service to use.
How much does an iTop VPN cost?
iTop VPN is free to use with unlimited data and bandwidth. However, there is a premium version that offers additional features, such as more server locations and faster speeds.
Is the iTop VPN good for gaming?
Yes, iTop VPN can be good for gaming. It can reduce ping times and improve your gaming experience. However, it is important to note that some servers may be slower than others, so you may need to experiment to find the best server for your needs.
Where can I download the iTop VPN?
You can download iTop VPN from AppToFounder. The website has links to the download pages for the different platforms that iTop VPN is available for.