Home /
WhatsApp for Android
2.23.7.14
Description
Introduction
In the fast-paced digital era, staying connected with friends, family, and colleagues has become easier than ever. One of the most popular tools that has revolutionized communication is WhatsApp, and it's particularly significant for Android users. WhatsApp for Android has become a cornerstone of modern communication, offering a user-friendly interface and an array of features that keep people engaged and connected. In this article, we will delve into the world of WhatsApp for Android, exploring its features, tips and tricks, troubleshooting common issues, and exciting updates.
What is WhatsApp for Android?
WhatsApp is a free, cross-platform messaging app that allows users to send messages, make voice and video calls, share media, and update their status with ease. Acquired by Facebook in 2014, WhatsApp quickly gained popularity for its simplicity and reliability. With a strong focus on user privacy and security, WhatsApp ensures that all communications are encrypted, providing a safe environment for users to interact.
Features of WhatsApp for Android
Messaging and Chatting
The core feature of WhatsApp is messaging, enabling users to send text messages, emojis, stickers, and even voice messages to individuals or groups. Its user-friendly interface and real-time message delivery have made it the go-to messaging app for millions worldwide.
Voice and Video Calls
WhatsApp's voice and video call functionalities offer high-quality communication regardless of the distance between users. Android users can enjoy uninterrupted voice and video conversations, even with contacts in other countries.
Media Sharing
Sharing photos, videos, and documents is a breeze with WhatsApp for Android. Whether you want to send a vacation picture to a friend or share an important document with a colleague, WhatsApp makes it seamless.
Status Updates
WhatsApp Status allows users to share photos, videos, or text updates that disappear after 24 hours. It's a fun way to let your contacts know what you're up to and express yourself creatively.
WhatsApp Web
For added convenience, WhatsApp offers a web version that syncs with your Android device. It allows you to access your messages and continue conversations from your computer's web browser.
Privacy and Security
WhatsApp for Android takes user privacy seriously, offering end-to-end encryption for all messages and calls. Additionally, users have control over their privacy settings, enabling them to manage who can see their status updates and profile information.
How to Download and Install WhatsApp for Android
Downloading and installing WhatsApp on your Android device is a straightforward process:
Go to the AppToFounder website.
Search for "WhatsApp for Android" in the search bar.
Click on the "Download" button and patiently wait for the app to complete the download process.
Install an app on your android device.
Setting Up Your WhatsApp Account
Phone Number Verification
After installing WhatsApp, you will need to verify your phone number to set up your account. WhatsApp will send a verification code to the provided phone number, and once verified, your account is ready to use.
Profile Setup
Next, you can set up your profile by adding a display name and profile picture. This allows your contacts to recognize you easily.
Account Settings
In the account settings, you can manage various aspects of your WhatsApp account, such as privacy, security, chat backups, and more.
Tips and Tricks for Using WhatsApp on Android
Creating and Managing Groups
WhatsApp groups are a powerful way to connect with multiple people at once. Learn how to create, manage, and participate in groups effectively.
Sending Broadcast Messages
Want to send the same message to multiple contacts individually? The broadcast feature lets you do just that.
Using WhatsApp Business
For entrepreneurs and business owners, WhatsApp Business provides a suite of tools to interact with customers, showcase products, and provide customer support.
Archiving Chats
If you want to declutter your chat list without losing important conversations, learn how to archive chats on WhatsApp.
Customizing Notifications
WhatsApp allows you to customize notification settings for individual chats or groups, ensuring you never miss important messages.
Troubleshooting Common Issues
Connection Problems
Experiencing connection issues? We'll guide you through troubleshooting steps to get WhatsApp up and running smoothly.
Backup and Restore
Learn how to back up your chat history and restore it when switching to a new phone or reinstalling WhatsApp.
Error Messages
Encountering error messages can be frustrating. We'll help you decipher and resolve common WhatsApp error messages.
WhatsApp Updates and New Features
WhatsApp consistently introduces fresh features to improve the overall user experience. Stay up-to-date with the latest updates and explore exciting new functionalities.
The Future of WhatsApp for Android
As technology advances, so does WhatsApp. Discover the potential future developments and innovations that WhatsApp may bring to Android users.
Conclusion
WhatsApp for Android has become a lifeline for communication in today's digital world. Its seamless messaging, robust voice and video calls, media sharing capabilities, and privacy features make it a top choice for millions of users worldwide. Whether you are connecting with friends, family, or colleagues, WhatsApp keeps you connected, no matter the distance. Embrace the power of WhatsApp for Android and unlock a world of communication possibilities.
---
FAQs
Is WhatsApp for Android free to use?
Yes, WhatsApp is free to download and use. It only requires an internet connection to send messages and make calls.
Can I use WhatsApp on multiple devices simultaneously?
WhatsApp currently supports multiple devices, allowing you to use it on your phone and computer simultaneously.
Are WhatsApp calls secure?
Yes, WhatsApp calls are end-to-end encrypted, ensuring that only the sender and recipient can access the conversation.
Can I recover deleted messages on WhatsApp for Android?
WhatsApp offers an option to back up chat history, which can help you restore deleted messages if you've created a backup before the deletion.
How often does WhatsApp release updates?
WhatsApp regularly releases updates to improve performance, introduce new features, and address security concerns.
Images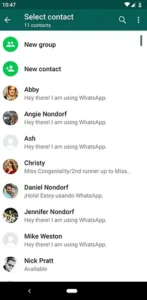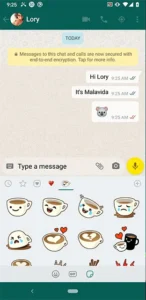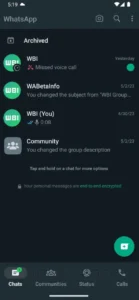 Download links
How to install WhatsApp for Android?
1. Tap the downloaded WhatsApp for Android.
2. Touch install.
3. Follow the steps on the screen.