Home /
AimerLab MobiGo: Location Spoofer
4.1.0
Discover how AimerLab MobiGo - Location Spoofer can revolutionize your GPS experience. Learn about its features, benefits, and usage. Get ready to take control of your virtual location.
Description
Unveiling the Power of AimerLab MobiGo – Location Spoofer
In today's digital age, technology has bestowed upon us incredible tools that can reshape our experiences in unique ways. One such innovation is the AimerLab MobiGo – Location Spoofer. Are you curious about how this remarkable tool can transform your GPS encounters? Look no further. This comprehensive guide will walk you through every aspect of MobiGo, from its features to its benefits and practical applications. Whether you're an avid gamer, an explorer, or someone who wants to maintain privacy, MobiGo has something to offer for everyone.
AimerLab MobiGo – Location Spoofer: A Closer Look
AimerLab MobiGo is a cutting-edge location spoofing tool designed to give you control over your device's virtual GPS coordinates. With its user-friendly interface and advanced capabilities, this tool enables you to manipulate your location information with ease. Let's delve into its features and understand how it can enhance your digital escapades:
Seamless Location Alteration
AimerLab MobiGo provides a seamless way to alter your device's GPS location. Whether you're playing location-based games, exploring new apps, or simply safeguarding your privacy, this tool allows you to set any location you desire, all while sitting comfortably at home.
Realistic Simulation
What sets AimerLab MobiGo apart is its ability to simulate movement between locations. You can mimic walking, running, or driving, creating a more authentic virtual experience. This feature is particularly useful for gaming enthusiasts who want to excel in location-dependent games.
User-Friendly Interface
Even if you're not tech-savvy, AimerLab MobiGo's intuitive interface makes it accessible to users of all levels. With just a few clicks, you can teleport to your chosen destination or follow a customized route.
Extensive App Compatibility
AimerLab MobiGo is designed to work seamlessly with a wide range of apps that utilize GPS data. Whether it's social media, navigation, or gaming apps, you can enjoy the benefits of location spoofing across various platforms.
Privacy Protection
Concerned about sharing your exact location with certain apps? AimerLab MobiGo has you covered. Safeguard your privacy by using the location spoofer to control what information you share.
Elevate Your Gaming Experience
Are you an ardent gamer looking to gain a competitive edge? AimerLab MobiGo can significantly elevate your gaming experience. Here's how:
Dominate Location-Based Games
Location-based games like Pokémon GO and geocaching require physical movement to progress. With AimerLab MobiGo, you can traverse virtual landscapes, capture elusive creatures, and conquer in-game challenges, all without leaving your home.
Secure Rare Items
Certain games offer exclusive items and rewards based on your location. With AimerLab MobiGo, you can easily access these rare items by virtually traveling to the required locations.
Exploring Anew from Your Couch
Virtual Adventures
Dreaming of exploring distant lands and iconic landmarks? MobiGo makes it possible to embark on virtual adventures from the comfort of your couch. Wander through famous streets, visit renowned monuments, and soak in the beauty of global destinations, all while staying indoors.
Travel Planning
Planning a future trip? AimerLab MobiGo can aid in virtually scoping out potential destinations, helping you make informed decisions about your next adventure.
Pricing Plans of MobiGo Location Spoofer
MobiGo offers an exceptionally adaptable payment structure, allowing you to choose the subscription that aligns perfectly with both your budget and your requirements for a location altering solution.
| | | |
| --- | --- | --- |
| MobiGo's Plan | Price | Detail |
| 1-Month Plan | $9.95 | Enjoy all premium features5 devices and 1 PC/MacLicense valid for 1 month |
| 1-Quarter Plan | $19.95 | Enjoy all premium features5 devices and 1 PC/MacLicense valid for 3 months |
| 1-Year Plan | $39.95 | Enjoy all premium features5 devices and 1 PC/MacLicense valid for 1 year |
| Lifetime Plan | $59.95 | Enjoy all premium features5 devices and 1 PC/MacLicense valid for lifetime |
Alternatives
1. iTools
iTools is a software available for Windows and macOS that allows you to manage your iOS device. It also includes a location spoofing feature, letting you set a virtual location on your iPhone or iPad.
2. Dr.Fone – Virtual Location
Dr.Fone is a toolkit that offers various tools for managing iOS and Android devices. Their "Virtual Location" feature allows you to change your device's GPS location to any place in the world.
3. VPNa – Fake GPS Location
VPNa is an Android app that enables you to fake your GPS location. It's user-friendly and offers a straightforward way to set a virtual location.
4. Xcode Simulator (iOS development environment)
If you're into iOS app development, you can use Xcode's simulator to test how your app behaves in different locations.
Conclusion: Redefining Your Digital Adventures
In a world where technology is constantly evolving, AimerLab MobiGo stands out as a remarkable innovation that empowers users to take control of their virtual presence. Whether you're a gamer aiming to excel, an armchair traveler exploring the world from home, or someone seeking privacy, this tool offers a plethora of benefits. With its seamless interface, realistic simulation, and broad compatibility, MobiGo opens up a world of possibilities. Embrace the future of location manipulation and redefine your digital adventures with AimerLab MobiGo.
---
FAQs
Is AimerLab MobiGo compatible with both iOS and Android devices?
Yes, AimerLab MobiGo is compatible with both iOS and Android devices, making it accessible to a wide range of users.
Can I use AimerLab MobiGo with location-based dating apps?
Absolutely! AimerLab MobiGo can be used with any app that relies on GPS data, including location-based dating apps.
Is location spoofing legal?
While AimerLab MobiGo itself is a legitimate tool, its usage might be subject to legal restrictions in certain contexts. Always ensure you use the tool responsibly and adhere to local laws and app policies.
Will using AimerLab MobiGo affect my device's warranty?
No, using AimerLab MobiGo does not typically void your device's warranty, as it operates without altering the hardware or system files.
How frequently are updates released for AimerLab MobiGo?
The development team at AimerLab regularly releases updates to enhance the tool's performance, compatibility, and features.
Can I customize the speed of movement when simulating location with AimerLab MobiGo?
Yes, you can adjust the movement speed according to your preferences, allowing for a tailored virtual experience.
Images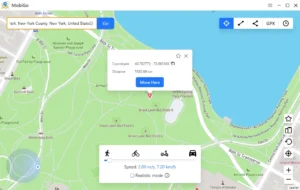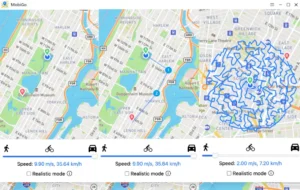 Download links
How to install AimerLab MobiGo: Location Spoofer?
1. Tap the downloaded AimerLab MobiGo: Location Spoofer.
2. Touch install.
3. Follow the steps on the screen.
Developer's apps