Description
Introduction
In the ever-evolving world of technology, our lives have become heavily reliant on our smartphones, particularly iOS devices like iPhones and iPads. However, with increased functionality and complexity, these devices are not immune to occasional glitches and slowdowns. That's where AimerLab's FixMate comes to the rescue. In this article, we'll delve into the features and benefits of this remarkable iOS system repair tool.
Understanding the Need for iOS System Repair
The Complexity of iOS Devices
iOS devices are marvels of modern technology, offering seamless integration of hardware and software. However, this complexity can sometimes lead to unexpected issues that hinder the user experience.
Common Problems Faced by iOS Users
From app crashes to unresponsive screens, iOS users encounter a variety of problems. These issues not only cause frustration but can also impact productivity and accessibility.
Overview
What is AimerLab FixMate?
AimerLab FixMate is a cutting-edge solution designed to address a wide range of iOS-related problems. It's an all-in-one toolkit that empowers users to tackle software issues without resorting to drastic measures.
Key Features
iOS System Repair: FixMate offers a comprehensive system repair feature that can resolve various iOS system problems, including boot loops, black screens, and frozen devices.
Data Preservation: One of the standout features of FixMate is its ability to repair the system without compromising user data. This means you can fix issues without the fear of losing your precious photos, messages, and apps.
One-Click Solution: FixMate simplifies the repair process with its one-click solution. You don't need to be tech-savvy to use it; a few clicks can get your device back on track.
Compatibility: AimerLab FixMate is compatible with a wide range of iOS devices, ensuring that users across different models can benefit from its repair capabilities.
How AimerLab FixMate Works
User-Friendly Interface
Upon launching FixMate, users are greeted with an intuitive interface that guides them through the repair process. The user-friendly design ensures that even those with limited technical knowledge can navigate it effortlessly.
Step-by-Step Repair Process
Connect Your Device: Start by connecting your iOS device to your computer.
Choose Repair Mode: Select the appropriate repair mode based on the issue you're facing.
Download Firmware: FixMate will prompt you to download the necessary firmware package.
Initiate Repair: Once the firmware is downloaded, click on "Repair" to initiate the process.
Repair Complete: After a short while, your device will restart, and the problem should be resolved.
The Benefits of Using AimerLab FixMate
Time-Saving: Instead of spending hours troubleshooting or seeking professional help, FixMate allows you to quickly repair your device on your own.
Cost-Effective: Avoiding costly repair services and potential device replacements can save you a significant amount of money.
Convenience: The convenience of a one-click solution and the preservation of your data make FixMate an indispensable tool for iOS users.
Pricing Plans
AimerLab FixMate offers both a free trial and a pro version to cater to its users. During the free trial period, users can freely utilize the enter and exit recovery mode without any limitations. However, if you intend to employ FixMate for rectifying system issues on your device, an upgrade to the Pro version of the software is necessary.
FixMate presents a variety of subscription tiers, enabling users to select the choice that perfectly suits their requirements and financial considerations. The cost structure may differ based on the subscription duration, and the following are the details of the pricing:
| | | |
| --- | --- | --- |
| FixMate's Plan | Price | Detail |
| 1-Month Plan | $19.95 | Enjoy all premium features5 devices and 1 PCLicense valid for 1 month |
| 1-Year Plan | $44.95 | Enjoy all premium features5 devices and 1 PCLicense valid for 1 year |
| Lifetime Plan | $74.95 | Enjoy all premium features5 devices and 1 PCLicense valid for lifetime |
Alternatives
Key Features
ReiBoot is known for its simplicity and effectiveness in repairing various iOS system issues, including boot loops, frozen screens, and devices stuck in recovery mode.
It offers a "Repair Operating System" feature that can fix severe iOS issues without data loss.
ReiBoot also supports the latest iOS versions and a wide range of iOS devices.
2. iMyFone Fixppo
Key Features
iMyFone Fixppo specializes in repairing various iOS-related problems like black screens, Apple logo loops, and unresponsive devices.
It provides three modes for repair: Standard Mode, Advanced Mode, and Exit Recovery Mode, catering to different levels of system issues.
The tool also offers a user-friendly interface, making it accessible for users with varying levels of technical expertise.
3. Dr.Fone – System Repair (iOS)
Key Features
Dr.Fone's System Repair feature targets various iOS issues such as white screens, black screens, and devices stuck on the Apple logo.
It provides a free trial version that allows users to preview the repairable issues before committing to the repair process.
Dr.Fone also offers a "Standard Mode" and an "Advanced Mode" for repairing more complex issues.
4. TunesKit iOS System Recovery
Key Features
TunesKit iOS System Recovery specializes in fixing various iOS-related issues, such as update failures, system crashes, and unresponsive screens.
It provides two repair modes: Standard Mode and Advanced Mode, catering to different levels of system problems.
TunesKit's intuitive interface makes it user-friendly for both beginners and experienced users.
Conclusion
In conclusion, AimerLab FixMate emerges as a game-changer in the realm of iOS system repair. Its user-friendly interface, one-click repair solution, and data preservation capabilities set it apart as a must-have toolkit for every iOS device owner. Say goodbye to frustration and inconvenience caused by unexpected software issues.
---
FAQs
Is FixMate compatible with the latest iOS updates?
Yes, AimerLab constantly updates FixMate to ensure compatibility with the latest iOS versions.
Can I use FixMate without a computer?
Currently, FixMate requires a computer for the repair process.
Will using FixMate void my device's warranty?
No, using Fix-Mate's repair features will not void your device's warranty.
What if FixMate fails to repair my device?
While Fix-Mate is highly effective, there might be rare cases where professional assistance is needed.
Is my personal data safe during the repair process?
Absolutely, FixMate is designed to preserve user data throughout the repair process.
Images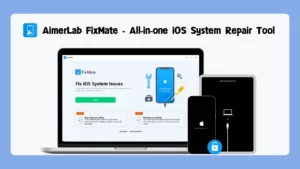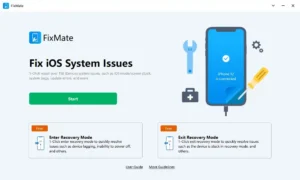 Download links
How to install FixMate?
1. Tap the downloaded FixMate.
2. Touch install.
3. Follow the steps on the screen.
Developer's apps