Home /
AnyDesk: Simple Yet Robust Remote Access
7.1.13
Developer
AnyDesk Software GmbH
Updated
June 28, 2023
Size
3.95 MB
Version
7.1.13
Requirements
Windows, Android, Mac
Description
Overview
In today's fast-paced world, the demand for efficient remote work solutions has never been higher. Enter AnyDesk, a powerful and versatile remote desktop software that has been transforming the way individuals and businesses collaborate. In this guide, we'll delve into the ins and outs of Any Desk, exploring its features, use cases, advantages, and frequently asked questions. Whether you're a remote worker, a team manager, or an IT professional, Any Desk offers a seamless experience that can enhance your productivity and streamline your workflow.
AnyDesk: Empowering Remote Work
Remote work has become a cornerstone of modern business operations, enabling flexibility and global collaboration. AnyDesk serves as a conduit for this remote work revolution, providing secure and efficient access to your computer from anywhere in the world. This powerful software employs advanced encryption and low-latency technology to ensure smooth and secure remote connections.
Key Features
1. Lightning-Fast Performance
With AnyDesk, slow remote connections are a thing of the past. Its cutting-edge DeskRT codec technology ensures high-quality visuals and minimal lag, even on low-bandwidth networks.
2. Cross-Platform Compatibility
AnyDesk's versatility shines through its compatibility with various operating systems, including Windows, macOS, Linux, Android, and iOS. Effortlessly transition between devices with seamless ease.
3. Secure Data Transfer
Security is paramount in the digital age. Any Desk employs banking-standard TLS 1.2 encryption and RSA key exchange to protect your data from unauthorized access during remote sessions.
4. Customizable User Interface
Tailor AnyDesk's interface to your preferences with personalized aliases, settings, and even your brand's logo, creating a seamless and professional user experience.
5. File Transfer Made Easy
Effortlessly share files and documents between remote devices, eliminating the need for third-party applications or email attachments.
6. Online Collaboration
Collaboration knows no bounds with Any Desk. Real-time collaboration features allow you to work with colleagues on the same documents and projects, regardless of geographical barriers.
Unlocking the Potential
Streamlining IT Support
AnyDesk isn't just for remote workers; it's a boon for IT professionals too. Instantly access and troubleshoot computers in your network, reducing downtime and minimizing disruptions.
Enhancing Remote Presentations
Impress clients and colleagues with seamless remote presentations. AnyDesk's high-quality visuals ensure that your pitch, slides, and demonstrations shine through, regardless of your physical location.
Enabling Telehealth Services
In the healthcare sector, AnyDesk has proven invaluable. Doctors can now offer teleconsultations, review patient records, and provide medical guidance remotely, bridging the gap between healthcare providers and patients.
Facilitating Online Education
The field of education has embraced AnyDesk to facilitate virtual classrooms and remote learning. Teachers can conduct live lessons, share educational materials, and engage with students as if they were in the same room.
Understanding AnyDesk's licensing options is crucial for maximizing its benefits. Whether you're an individual, small business, or large enterprise, there's a licensing plan tailored to your needs.
Maintaining Data Privacy
Worried about data privacy? AnyDesk is fully GDPR compliant, ensuring that your remote sessions adhere to the highest standards of data protection and privacy regulations.
Alternatives
TeamViewer: One of the most popular remote desktop software, TeamViewer offers secure and reliable remote access for individuals and businesses.
Remote Desktop Connection (Windows Built-in): For Windows users, the built-in Remote Desktop Connection (RDP) allows you to access and control another Windows computer.
Chrome Remote Desktop: A free extension for the Google Chrome browser that enables remote access between computers.
Splashtop: Offers high-performance remote access and support for both personal and business use.
NoMachine: A powerful and feature-rich remote desktop solution available for various operating systems.
Conclusion
In the realm of remote work and collaboration, Any Desk emerges as a shining star, offering unparalleled performance, security, and versatility. From seamless file transfers to real-time collaboration, this software has redefined the way we connect and work together. Whether you're an individual seeking efficient remote access or a business aiming to streamline operations, Any Desk has the tools to propel you toward success. Embrace the future of remote work with Any Desk, and watch your productivity soar.
---
FAQs
How does AnyDesk differ from other remote desktop software?
Any Desk stands out with its unparalleled performance, cross-platform compatibility, and security measures. Its proprietary DeskRT codec sets it apart by providing exceptional speed and clarity during remote sessions.
Is AnyDesk suitable for gaming purposes?
While Any Desk is primarily designed for remote work and collaboration, it may not be the best choice for gaming due to its focus on optimizing productivity and security.
Can I use AnyDesk on my mobile device?
Absolutely! Any Desk offers mobile apps for both Android and iOS devices, allowing you to remotely access your computer or provide assistance on the go.
How secure are AnyDesk sessions?
AnyDesk prioritizes security by employing robust encryption and authentication protocols, ensuring that your remote sessions remain confidential and protected from unauthorized access.
Does AnyDesk offer customer support?
Yes, AnyDesk provides comprehensive customer support to assist users with any queries or technical issues they may encounter.
Images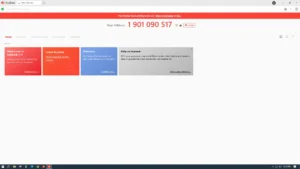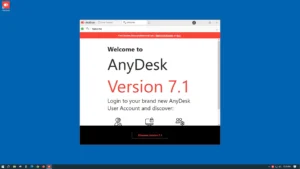 Download links
How to install AnyDesk: Simple Yet Robust Remote Access?
1. Tap the downloaded AnyDesk: Simple Yet Robust Remote Access.
2. Touch install.
3. Follow the steps on the screen.