Home /
Sky Burger
3.0.4
Sky Burger is a mobile game where players stack ingredients to create towering burgers. Balance lettuce, tomatoes, cheese, pickles, and more to build the biggest burger possible. Simple and addictive gameplay with vibrant visuals and lively sound effects.
Description
Overview
Welcome to Sky Burger, the ultimate burger-stacking challenge! Get ready to test your skills and construct mouthwatering burgers that reach the sky. With a variety of delicious ingredients at your disposal, including lettuce, tomatoes, cheese, pickles, and more, it's your task to carefully balance and stack them to create towering culinary masterpieces. As you progress, the burgers become more complex and require precise coordination and timing to maintain stability. Are you up for the challenge? Prepare to embark on a fun and addictive journey filled with vibrant visuals, lively sound effects, and the quest to build the biggest, most impressive burger ever seen in the sky!
Main Features
Burger Stacking: The main objective of Sky Burger is to stack various ingredients and build towering burgers. Use your stacking skills to create the biggest and most impressive burger possible.
Variety of Ingredients: Enjoy a wide range of delicious ingredients to choose from, including lettuce, tomatoes, cheese, pickles, meat patties, and more. Each ingredient adds to the challenge and complexity of your burger creations.
Challenging Gameplay: As you progress through the game, the burgers become more intricate, requiring precise coordination and timing to maintain stability. Test your skills and see how high you can stack!
Addictive Experience: Sky Burger offers simple yet addictive gameplay that keeps you coming back for more. It's easy to learn but difficult to master, making it suitable for players of all ages.
Vibrant Visuals: Immerse yourself in a visually appealing world with colorful and engaging graphics. The game's vibrant visuals enhance the overall experience and make it even more enjoyable.
Lively Sound Effects: The game features lively sound effects that add excitement and energy to each burger-building session. The sounds of stacking ingredients and achieving new heights will keep you engaged and motivated.
Achievements and Rewards: Sky Burger provides a sense of accomplishment with achievements and rewards for reaching certain milestones or completing challenges. Unlock new ingredients, toppings, or customization options to enhance your burger creations.
Social Integration: Connect with friends and compete for the highest scores or the most impressive burgers. Share your creations on social media platforms and challenge others to beat your burger-stacking skills.
Frequent Updates: The game developers regularly release updates, introducing new ingredients, challenges, and features to keep the gameplay fresh and exciting.
Mobile Accessibility: Sky Burger is available on mobile devices, allowing you to enjoy the game anytime, anywhere. Take your burger-stacking skills on the go and challenge yourself wherever you are.
Pros and Cons
Addictive and engaging gameplay.
Fun and challenging burger-stacking mechanics.
Vibrant visuals and lively sound effects.
Regular updates and new features.
Social integration for competition and sharing.
Potential repetitive gameplay.
Limited long-term depth.
In-app purchases may be necessary.
Possible lack of substantial content.
How to use it?
Download and Install: Visit AppToFounder for download of the game.
Launch the Game: Tap on the Sky Burger icon to launch the game on your device. Wait for it to load.
Start Playing: Once the game is launched, you'll typically be greeted with a main menu or tutorial. Follow the on-screen instructions to understand the game mechanics and controls.
Stack Ingredients: In the game, you'll have various ingredients available, such as lettuce, tomatoes, cheese, pickles, and more. Use your device's touch screen or swipe gestures to select and place the ingredients on top of each other, aiming to build the tallest burger possible.
Maintain Stability: Be careful not to let the burger topple over. Maintain balance by ensuring the ingredients are stacked evenly and strategically. As you progress, the burgers may become more complex, requiring precise timing and coordination.
Achieve High Scores: The objective is to reach the highest score by building impressive burgers. Strategize your stacking techniques and aim for the sky!
Unlock Rewards and Features: As you play, you may unlock achievements, rewards, and new ingredients, adding variety and customization options to your burger creations.
Share and Compete: Connect with friends and share your high scores or burger creations on social media platforms. Challenge others to beat your scores or create even bigger burgers.
Keep Updated: Check for updates from the game developers regularly. These updates may introduce new features, ingredients, challenges, or improvements to enhance your gaming experience.
Enjoy and Have Fun: Sky Burger is designed to be a fun and addictive game. Enjoy the vibrant visuals, lively sound effects, and the satisfaction of building towering burgers. Challenge yourself to reach new heights and have a great time playing the game!
Final Words
In Sky Burger, prepare to embark on a delightful journey of burger stacking and culinary creativity. Build towering burgers using a variety of delicious ingredients while maintaining balance and precision. With vibrant visuals, lively sound effects, and addictive gameplay, this game offers hours of fun and challenges. Whether you're a casual player or a dedicated burger architect, Sky Burger will satisfy your appetite for fun. So, start stacking, reach for the sky, and enjoy the delicious satisfaction of creating the ultimate burger masterpiece!
FAQs
Is Sky Burger available for free?
Yes, Sky Burger is typically available as a free-to-play game. However, it may offer in-app purchases for additional features or virtual currency.
What platforms is Sky Burger available on?
Sky Burger is primarily available on mobile platforms, such as iOS (Apple) and Android devices. You can find it on the respective app stores for your device.
Can I compete with friends in Sky Burger?
Yes, many versions of Sky Burger include social integration, allowing you to connect with friends and compete with them. You can compare scores, challenge each other, or share your burger creations on social media platforms.
Are there updates and new content in Sky Burger?
Yes, game developers often release updates for Sky Burger. These updates can bring new ingredients, features, challenges, or improvements to the game. It's recommended to regularly check for updates to enjoy the latest content.
Can I play Sky Burger offline?
The availability of offline play may depend on the specific version of Sky Burger. Some versions may require an internet connection for certain features, while others may offer offline gameplay. Check the game's requirements and features in the app description.
Images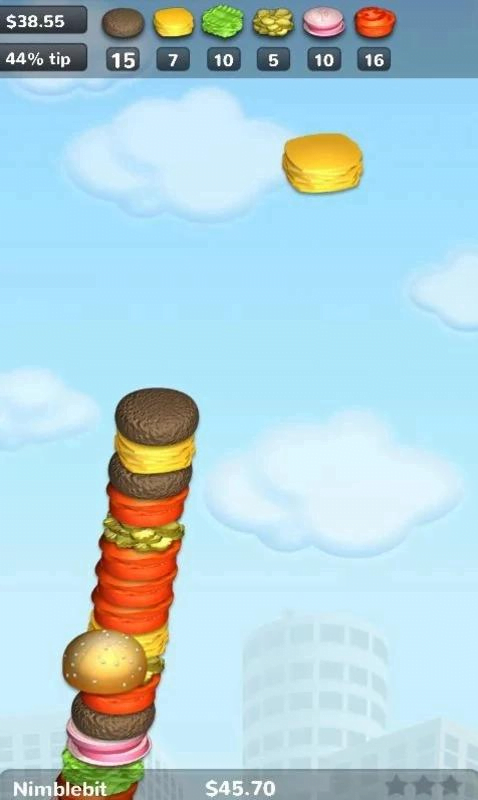 Download links
How to install Sky Burger?
1. Tap the downloaded Sky Burger.
2. Touch install.
3. Follow the steps on the screen.