Home /
Subway Surfers
3.13.2
Subway Surfers is an endless running mobile game where players control a graffiti-tagging character who must escape from an inspector and his dog through subway tracks. They navigate obstacles, collect coins, and power-ups while trying to achieve the highest score possible.
Description
Overview of Subway Surfers
Subway Surfers is a free-to-play endless runner developed by Kiloo and SYBO Games. The game puts players in control of a young graffiti artist who is caught tagging a subway train and must now escape from the pursuing inspector and his dog.
Set in various vibrant and colorful urban environments, players navigate their character through subway tracks, dodging obstacles such as oncoming trains, barricades, and tunnels. The objective is to run as far as possible while collecting coins, power-ups, and other rewards along the way.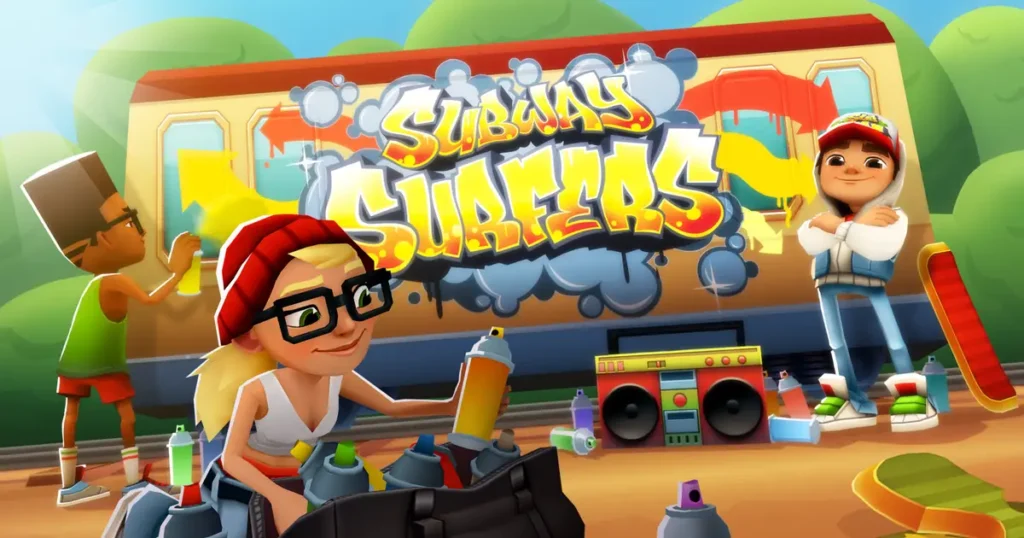 Players can swipe left or right to switch between multiple lanes, swipe up to jump over obstacles, and swipe down to slide under barriers. They must also be mindful of the inspector and his dog, as getting caught will end the run.
As the game progresses, players can unlock and switch between different characters, each with their own unique abilities and attributes. Additionally, various power-ups, such as hoverboards and jetpacks, provide temporary advantages and help players overcome challenging situations.
Subway Surfers is known for its engaging gameplay, vibrant visuals, and catchy soundtracks. It offers regular updates and introduces new locations, characters, and challenges to keep players entertained. The game also features leaderboards, allowing players to compete with friends and other players worldwide for the highest scores.
Main Features of Subway Surfers
Endless Running Gameplay: Subway Surfers offers an endless running experience, challenging players to run as far as possible through subway tracks without getting caught by the inspector and his dog.
Vibrant Urban Environments: The game takes place in various visually appealing and colorful urban settings, providing a dynamic and immersive backdrop for the gameplay.
Intuitive Controls: Players can easily control their character by swiping left or right to switch lanes, swiping up to jump, and swiping down to slide under obstacles.
Collectibles and Power-ups: Throughout the game, players can collect coins, power-ups, and other rewards. Coins can be used to purchase upgrades, while power-ups such as hoverboards, jetpacks, and magnets provide temporary advantages and help players navigate through challenges.
Unlockable Characters: Subway Surfers features a variety of characters, each with their own unique abilities and attributes. Players can unlock new characters by collecting specific items or achieving certain milestones.
Regular Updates and New Locations: The game regularly introduces updates that bring new locations, challenges, and characters to the gameplay, keeping it fresh and engaging for players.
Leaderboards and Social Integration: Subway Surfers allows players to connect with friends and compete with other players worldwide through leaderboards. This social integration adds a competitive element to the game and encourages players to achieve high scores.
In-Game Events and Missions: Special events and missions are periodically introduced, providing additional objectives and rewards for players to pursue. These events often feature limited-time content and exclusive items.
Customization Options: Players can personalize their characters by customizing their outfits and accessories, adding a level of personalization and style to the game.
Engaging Soundtracks: Subway Surfers features energetic and catchy soundtracks that enhance the gameplay experience and contribute to its overall appeal.
Some Pros and Cons
Addictive endless running gameplay.
Vibrant and visually appealing environments.
Regular updates with new content.
Simple and intuitive controls.
Competitive leaderboards and social integration.
Catchy soundtracks enhance the experience.
Can become repetitive over time.
In-app purchases for upgrades.
Advertisements can be intrusive.
Alternatives of Subway Surfers
Temple Run: One of the most popular endless runner games similar to Subway Surfers. Players navigate through ancient temple ruins while avoiding obstacles and collecting coins.
Talking Tom Gold Run: This game features the famous character Talking Tom. Players run, chase down robberies, and collect gold bars in various themed worlds.
Sonic Dash: Based on the iconic Sonic the Hedgehog franchise, this game offers fast-paced running and collecting rings while avoiding obstacles and defeating enemies.
Spider-Man Unlimited: A superhero-themed endless runner game featuring Spider-Man. Players swing through the city, collecting coins and fighting villains.
Rail Rush: Players ride a cart on a rail track through different environments, collecting gems, and avoiding obstacles and enemies.
Jetpack Joyride: This game involves a character equipped with a jetpack who tries to go as far as possible while collecting coins and power-ups.
How to use Subway Surfers?
Download and install: Go to the AppToFounder for "Download" and "Install" the game on your device.
Launch the game: Once the installation is complete, locate the game icon on your device's home screen or in the app drawer. Tap or click on the icon to launch the game.
Game controls: Each game has its own set of controls and gameplay mechanics. Generally, touch-based games can be played by swiping, tapping, or dragging on the screen. Keyboard and mouse controls may be used for games on a computer. Familiarize yourself with the specific control scheme by following any in-game tutorials or reading the instructions provided.
Gameplay: Start playing the game by following the objectives or simply running as far as possible. Collect power-ups, coins, or other items, while avoiding obstacles and enemies. Some games may have missions, achievements, or levels to progress through.
Customize and enhance: Many games allow you to customize characters, unlock new levels or features, and upgrade abilities. Explore the game's menus and options to personalize your experience and enhance your gameplay.
Practice and enjoy: The more you play, the better you'll become. Enjoy the game, challenge yourself, and try to beat your high scores or compete with friends if multiplayer options are available.
Final Words
Subway Surfers is a popular and entertaining game, but there are several alternative games that offer similar gameplay experiences. Whether you choose Temple Run, Talking Tom Gold Run, Sonic Dash, or any other game mentioned, you'll find yourself engaged in endless running adventures, collecting items, and avoiding obstacles.
To enjoy these games, ensure your device meets the system requirements, download and install the game from the appropriate app store, and familiarize yourself with the controls and gameplay mechanics. Customize your experience, upgrade your abilities, and strive to achieve high scores or complete objectives.
Ultimately, gaming is about having fun and immersing yourself in a virtual world. So, choose a game that appeals to you, enjoy the experience, and let the excitement unfold. Happy gaming!
FAQs
Can I play Subway Surfers on my computer?
Yes, Subway Surfers is available for play on computers. You can download it from the Microsoft Store for Windows 10 or play it through an Android emulator like BlueStacks.
Can I synchronize my game progress across devices?
It depends on the game. Some games offer synchronization options through your Google Play Games or Apple Game Center account, allowing you to access your progress across multiple devices. Check the specific game's settings or documentation for information on synchronization features.
Are these games suitable for children?
Many of these games are suitable for children, but it's always recommended to check the age rating and content of the game before letting children play. Some games may have in-app advertisements or require an internet connection, so parental supervision and appropriate settings are advised.
Can I play these games offline?
The availability of offline play depends on the specific game. Some games require an internet connection to function properly, while others offer offline gameplay with limited features. Check the game's description or settings for information on offline playability.
Are these games available for iOS and Android?
Yes, most of the alternative games mentioned are available for both iOS and Android devices. You can find them on the respective app stores for each platform.
Can I play these games with friends?
Some of the games mentioned may offer multiplayer or social features, allowing you to play with or compete against friends. Check the game's features or multiplayer options within the game for more information.
Images
Download links
How to install Subway Surfers?
1. Tap the downloaded Subway Surfers.
2. Touch install.
3. Follow the steps on the screen.