Home /
VidJuice UniTube
5.9.1
Developer
VidJuice Studio
Updated
July 14, 2023
Size
90.2 MB
Version
5.9.1
Requirements
Windows, macOS, Android
Description
Introduction
In the present era of digital advancements, videos have seamlessly woven themselves into the fabric of our existence. Be it for entertainment, learning, or conducting business affairs, videos hold a momentous position in effectively communicating both information and sentiments. However, accessing and converting these videos efficiently can sometimes be a challenge. Enter VidJuice UniTube, a groundbreaking solution that simplifies video downloading and conversion like never before. In this comprehensive guide, we'll delve into the features, benefits, and practical applications of VidJuice UniTube, empowering you to harness its potential for all your video-related needs.
VidJuice UniTube: Redefining Video Downloading and Conversion
VidJuice UniTube is a versatile and user-friendly software designed to empower users to download videos from a wide range of platforms and convert them into various formats. With its intuitive interface and powerful features, UniTube has quickly gained a reputation as the go-to solution for video enthusiasts, content creators, educators, and professionals. Let's explore the key features that set VidJuice UniTube apart from the competition:
VidJuice UniTube boasts a user-friendly interface that makes video downloading and conversion a breeze. Its clean layout and easy-to-navigate menu ensure that even users with limited technical knowledge can swiftly navigate the software and access its full range of functionalities.
2. Wide Compatibility and Platform Support
One of VidJuice UniTube's standout features is its compatibility with a vast array of platforms. Whether you're looking to download videos from YouTube, Vimeo, Facebook, or any other major platform, UniTube has got you covered.
3. High-Quality Video Downloading
When it comes to video downloading, maintaining the original quality is of utmost importance. VidJuice UniTube excels in this aspect by enabling users to download videos in their highest available quality, whether it's standard definition, high definition, or even 4K.
4. Multi-Format Video Conversion
VidJuice UniTube doesn't just stop at video downloading. It empowers users to convert videos into various formats to ensure compatibility with different devices and players. From MP4 to AVI, MKV to MOV, UniTube supports an extensive range of formats.
5. Batch Download and Conversion
Efficiency is key, especially when dealing with multiple videos. VidJuice UniTube allows users to download and convert videos in batch mode. This means you can queue up multiple videos for downloading and conversion, saving you time and effort.
6. Lightning-Fast Speeds
Waiting around for videos to download or convert can be frustrating. VidJuice UniTube addresses this concern by offering lightning-fast speeds, ensuring that you spend less time waiting and more time enjoying your downloaded content.
7. Extract Audio with Ease
Sometimes, you might only be interested in the audio from a video. VidJuice UniTube enables users to extract audio tracks from videos effortlessly, making it a handy tool for music enthusiasts and podcast creators.
8. Smart Link Detection
Copying and pasting video URLs can be cumbersome. VidJuice UniTube simplifies this process with its smart link detection feature. Simply copy a video URL, and UniTube will automatically detect it and offer to initiate the download.
9. Regular Updates and Enhancements
The team behind VidJuice UniTube is committed to delivering an exceptional user experience. Regular updates and enhancements ensure that the software remains up-to-date with the latest video platforms and technologies.
How to Make the Most of VidJuice UniTube
Now that you're familiar with the impressive features of VidJuice UniTube, let's dive into some practical tips to maximize its utility:
Organize Your Downloads
With the ability to download multiple videos at once, it's a good idea to keep your downloads organized. Create folders for different categories or projects to streamline your video library.
Explore Different Formats
Experiment with different video formats based on your needs. Whether you're sharing videos online or watching them offline, selecting the appropriate format can significantly enhance your viewing experience.
Utilize Batch Conversion
If you have a collection of videos that need to be converted to the same format, take advantage of the batch conversion feature. This saves you time compared to converting each video individually.
Stay Updated
To ensure a smooth experience, regularly check for updates within the software. This will help you stay current with any new features, improvements, or compatibility updates.
VidJuice UniTube: Your Video Solution
In a world driven by visual content, having a reliable and efficient video downloading and conversion tool is paramount. VidJuice UniTube not only meets but exceeds these expectations, offering a comprehensive set of features that cater to users across various domains. Whether you're a content creator aiming to repurpose videos, a student looking to download educational content, or simply an individual who enjoys watching videos offline, UniTube is the answer to your needs.
VidJuice UniTube Pricing
VidJuice UniTube is available for systems running Windows, Mac, and Android. Here's a breakdown of its available plans:
| | | |
| --- | --- | --- |
| VidJuice UniTube's Plan | Price | Detail |
| 1-Month Plan | $9.95 | 1 Month – 1 PC/Mac/Android |
| 1-Year Plan | $19.95 | 1 Year – 1 PC/Mac/Android |
| Family Plan | $39.95 | Lifetime – 5 PC/Mac/Android |
| Lifetime Plan | $29.95 | Lifetime – 1 PC/Mac/Android |
Alternatives
Freemake Video Downloader: This software offers the ability to download videos from various sites and also convert them into different formats.
YTD Video Downloader: YTD (YouTube Downloader) lets you download videos from YouTube and other sites, and also convert them into different formats.
JDownloader: JDownloader is an open-source download manager that supports downloading videos from various sources, along with other types of files.
KeepVid: KeepVid was a popular online video downloader, though it had offline software as well. Keep in mind that its status might have changed after my last update.
Conclusion
In conclusion, VidJuice UniTube is not just a video downloader and converter; it's a comprehensive solution that caters to the diverse needs of today's video-centric world. Its user-friendly interface, wide compatibility, and impressive array of features make it a must-have tool for anyone who interacts with videos. Whether you're a content creator, student, educator, or entertainment enthusiast, UniTube is your gateway to unlocking the full potential of online videos.
So why wait? Embrace the power of VidJuice UniTube and elevate your video experience to new heights. From effortless downloads to seamless conversions, this tool is your ultimate companion in the world of videos.
---
FAQs
How Do I Download Videos Using VidJuice UniTube?
Downloading videos with VidJuice UniTube is simple. Just copy the URL of the video you want to download, paste it into the software, and initiate the download process. UniTube will handle the rest.
Can I Convert Videos to Different Formats Simultaneously?
Yes, you can. VidJuice UniTube's batch conversion feature allows you to convert multiple videos to different formats all at once, saving you time and effort.
Is VidJuice UniTube Compatible with Both Windows and Mac?
Absolutely. UniTube is designed to work seamlessly on both Windows and Mac operating systems, ensuring that users from all platforms can benefit from its features.
What Makes VidJuice UniTube Stand Out from Other Video Downloaders?
VidJuice UniTube distinguishes itself through its user-friendly interface, wide platform compatibility, high-quality downloads, multi-format conversion, and regular software updates. These features combined make it a comprehensive solution for all video-related needs.
Can I Extract Audio from Music Videos Using VidJuice UniTube?
Yes, you can easily extract audio from videos using UniTube. This feature is especially useful for creating playlists, podcasts, or simply enjoying music on the go.
Does UniTube Come with Customer Support?
Absolutely. UniTube offers dedicated customer support to assist users with any queries, concerns, or technical issues they might encounter during their video downloading and conversion journey.
Images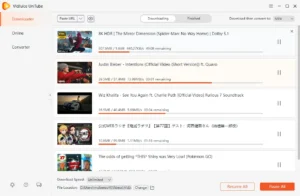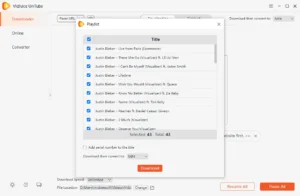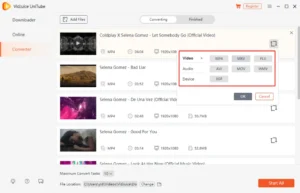 Download links
How to install VidJuice UniTube?
1. Tap the downloaded VidJuice UniTube.
2. Touch install.
3. Follow the steps on the screen.