Home /
Advanced SystemCare
16.1.0.137
Developer
IObit
Updated
October 12, 2022
Size
51.9 MB
Version
16.1.0.137
Requirements
Win11/Win10/Win8/Win7/Vista/XP
Description
IObit Advanced SystemCare Overview
IObit, a prominent provider of system utilities and security software worldwide, is pleased to unveil the latest version of its flagship Windows tool, Advanced SystemCare 16. This all-in-one PC utility boasts enhanced features that enable comprehensive junk file cleaning, rapid startup optimization, and robust privacy protection—all achieved with a single click. With these advancements, Advanced SystemCare 16 ensures millions of users worldwide can enjoy a consistently cleaner, smoother, and more secure Windows PC experience.
Over time, computers can experience slowdowns due to the accumulation of useless, temporary, and duplicate files. Dealing with these files that lead to a decrease in PC speed can be a frustrating challenge for many users. Fortunately, a solution exists in the form of an easy-to-use tool that thoroughly cleans up these junk files, breathing new life into older PCs. Advanced SystemCare 16 employs optimized and AI-powered algorithms to simplify the process of removing junk files, effectively boosting the performance of older computers.
With its ability to tailor scans and solutions based on users' cleaning and optimization preferences, as well as the current performance status of the PC, it stands out as a tool that requires no extensive learning curve. The capabilities of Advanced SystemCare 16 extend to its Junk File Clean and Privacy Sweep functions. These features identify and eliminate a wider range of junk files, temporary files, and privacy traces that linger after both Windows processes and program operations, such as those conducted by Chrome, Microsoft Edge, Spotify, and others.
Advanced SystemCare 16 presents an essential solution for addressing the sluggishness and unresponsiveness often experienced by older computers. It offers a comprehensive range of built-in features that swiftly enhance both PC and internet speed. Through the expanded database of Startup Optimizer, not only can unnecessary apps and services be disabled, but also Windows apps that initiate during startup, resulting in faster boot times.
In the 'Protect' module, enhancements to Anti-Tracking, Anti-Spyware, and Surfing Protection enable seamless detection and removal of privacy traces and threats, ensuring a smoother and more secure online experience. Additionally, the Software Updater's database has been enriched to maintain the latest versions of popular software, thereby reducing security vulnerabilities within the Windows system.
Bing Wang, Product Director at IObit, emphasized, "Our commitment to a cleaner, faster, and safer Windows PC is reflected in our focus on deep cleaning technology and our dedication to providing users with a one-click solution for easy cleaning, boosting, and protection."
The upgraded Advanced SystemCare 16 is readily available on IObit's platform. It extends complete support to Windows 11, Windows 10, Windows 8/8.1, Windows 7, Windows XP, and Vista, ensuring compatibility across a wide range of Windows operating systems.
About Advanced SystemCare 16
Advanced SystemCare 16 offers a user-friendly, all-in-one solution for enhancing Windows PC performance, safeguarding user privacy, and reinforcing security measures. The intelligent AI Mode introduces a robust 1-click approach that effortlessly handles tasks such as eradicating junk files, eliminating privacy traces, countering spyware threats, managing startup items, enhancing Internet speed, and rectifying system vulnerabilities and security gaps.
Moreover, Advanced SystemCare 16 is enriched with over 20 valuable tools, including Monitor, Win Fix, Internet Booster, Smart RAM, Large File Finder, Disk Cleaner, File Shredder, Software Updater, and DNS Protector. These tools collectively harness the PC's full potential, resulting in a system that's cleaner, faster, and more secure.
Key Features
System Cleanup and Optimization: Advanced SystemCare scans your system for junk files, unnecessary registry entries, and other clutter that can accumulate over time and slow down your computer. It helps free up valuable disk space and can enhance system responsiveness.
Privacy Protection: The software includes features to protect your online privacy by erasing browsing history, cookies, and other traces of online activity. It can also prevent unauthorized access to sensitive data and personal information.
System Tune-up: Advanced SystemCare can optimize system settings and configurations to improve overall performance. It can help boost startup times, enhance system stability, and optimize network settings for better browsing and gaming experiences.
Security Enhancement: The software includes real-time protection against malware, spyware, and other security threats. It can also detect and remove various types of malicious software to ensure your system's safety.
Registry Cleaning: The built-in registry cleaner scans and repairs invalid or obsolete registry entries that can accumulate over time and potentially lead to system errors and crashes.
Disk Optimization: This feature helps defragment and optimize your hard drives to improve file access speed and overall system performance.
Internet Speed Optimization: Advanced SystemCare can optimize network settings to improve internet connection speeds and reduce latency, which is beneficial for online activities like browsing and gaming.
Software Updater: The software can also help keep your installed applications up to date by scanning for the latest versions and providing links to download and install updates.
Driver Updates: It can identify outdated or incompatible drivers and assist in updating them to ensure hardware compatibility and system stability.
Uninstaller: The included uninstaller helps you cleanly remove unwanted applications and leftover files, freeing up additional space and resources.
Some Pros and Cons of IObit Advanced SystemCare
Pros
User-Friendly Interface: Advanced SystemCare offers an intuitive interface that is easy to navigate, making it accessible to users with varying levels of technical expertise.
Comprehensive System Cleanup: The software provides tools for cleaning up junk files, temporary files, and other unnecessary clutter, which can help free up valuable disk space and potentially improve system performance.
Registry Cleaning: Advanced SystemCare includes a feature to scan and clean the Windows registry, which may help resolve issues related to invalid or obsolete registry entries.
Security Enhancements: The software offers features such as real-time protection against malware and spyware, as well as a tool for managing browser security settings.
System Optimization: The optimization tools in Advanced SystemCare can help improve startup times, manage system resources more efficiently, and optimize internet connection settings.
Privacy Protection: The software includes features to help protect user privacy by erasing online traces, managing browser privacy settings, and securely shredding sensitive files.
Cons
Limited Performance Boost: While the software claims to significantly improve system performance, the actual impact might vary, and users might not always experience a noticeable speed boost.
Resource Consumption: Advanced SystemCare itself can consume system resources, potentially leading to slower performance while the software is running its scans or optimizations.
Dependency on Regular Scans: To maintain the benefits of optimization, users might need to run scans and cleanups regularly, which can be time-consuming.
Plans and Pricing
Advanced SystemCare Free can be downloaded without any charge. However, several of the features mentioned are exclusively accessible in the paid version, which is priced at $19.99 per year for usage on up to three PCs. The functionalities that aren't accessible in the free version are distinctly marked in orange within the user interface.
It's important to mention that Advanced SystemCare Free lacks real-time spyware protection, network optimization, automatic task scheduling, and background RAM cleaning. In fact, the majority of functionalities within IObit Advanced SystemCare Free have a corresponding Deep or Advanced version that remains accessible exclusively in Advanced SystemCare PRO.
User Interface and Usage
The user interface of IObit Advanced SystemCare Free is designed to be user-friendly and intuitive. Upon launching the application, users are greeted with a dashboard that provides an overview of their system's health and performance status. The dashboard often displays key metrics such as CPU usage, RAM usage, and disk space availability.
Navigation within the software is typically organized into different sections or tabs, each corresponding to a specific set of features or functions. Users can easily access tools for system cleanup, registry cleaning, privacy protection, and more through these tabs.
In terms of usage, IObit Advanced SystemCare Free offers a variety of tools to help users optimize and maintain their computer's performance. Users can initiate system scans to identify issues such as junk files, registry errors, and privacy traces. The software then presents the scan results, allowing users to review and select which items they want to clean or fix.
Additionally, users can access various optimization tools that aim to improve system speed and responsiveness. These tools might include options to disable startup items, optimize browser settings, and manage system resources.
While the free version of IObit Advanced SystemCare offers valuable features, it's important to note that certain advanced functionalities are reserved for the paid PRO version. These advanced features might include real-time protection against malware and spyware, deeper system optimization, and additional privacy enhancements.
Overall, IObit Advanced SystemCare Free provides a convenient way for users to perform routine system maintenance and optimization tasks. However, users should be mindful of the limitations of the free version and consider whether upgrading to the paid PRO version is necessary to access more comprehensive features.
Support for IObit Advanced SystemCare Free
IObit Advanced SystemCare Free offers support to users primarily through its online resources and community forums. Here is a summary of the available support choices:
Online Documentation: IObit usually provides comprehensive online documentation and user guides that cover various aspects of using Advanced SystemCare Free. These guides can offer step-by-step instructions on using different features, performing scans, and optimizing your system.
Community Forums: IObit maintains online community forums where users can ask questions, share their experiences, and seek help from both other users and IObit staff members. These forums can be a valuable resource for troubleshooting issues, learning about best practices, and finding solutions to common problems.
FAQs and Knowledge Base: The official IObit website often hosts a frequently asked questions (FAQ) section and a knowledge base. These sections can address common queries, provide solutions to known issues, and offer guidance on using specific features within Advanced SystemCare Free.
Customer Support: While IObit Advanced SystemCare Free might not offer direct customer support to free users to the same extent as their paid products, they might still provide some level of assistance through their support channels. This could include contacting their support team via email or submitting support tickets.
Social Media and Blog: IObit might share tips, updates, and useful information about Advanced SystemCare Free on their social media platforms and official blog. These resources can offer insights into new features, updates, and potential solutions to common problems.
Upgrade Options: If you find that you require more personalized or direct support, IObit often offers more comprehensive support options as part of their paid PRO versions. Upgrading to a paid version might grant you access to priority customer support, where you can receive assistance with more complex issues.
It's important to keep in mind that the level of support available for the free version of Advanced SystemCare might vary compared to the paid versions. If you encounter a specific issue or have a question, visiting the official IObit website or exploring their community resources can be a good starting point to find the help you need.
Competitors of IObit Advanced SystemCare Free
IObit Advanced SystemCare Free operates in a space with several other software products that offer similar system optimization and maintenance functionalities. Here are some notable competitors:
CCleaner: Developed by Piriform, CCleaner is a popular system optimization tool that helps users clean up junk files, clear browser history, and manage startup items. It also includes a registry cleaner and uninstaller.
Glary Utilities: Glary Utilities provides a suite of tools for system optimization, including disk cleanup, registry repair, privacy protection, and more. It aims to improve system performance and fix common issues.
SlimCleaner: SlimCleaner focuses on cleaning and optimizing a computer's system resources. It offers features like junk file cleanup, software uninstallation, and system performance analysis.
BleachBit: BleachBit is an open-source tool that primarily focuses on disk space cleaning and privacy protection. It's known for its ability to securely shred files and clean up temporary files.
Wise Disk Cleaner: While focusing primarily on disk cleaning, Wise Disk Cleaner is a tool designed to remove junk files, temporary files, and other unnecessary data to free up space on your hard drive.
Final Words
IObit Advanced SystemCare Free serves as a versatile and accessible solution for users seeking to maintain and optimize their computer's performance. With its user-friendly interface, it offers a range of essential tools for system cleanup, registry maintenance, and privacy protection. However, it's important to note that certain advanced features, such as real-time spyware protection and network optimization, are only available in the paid PRO version.
For users looking for a simple and effective way to keep their systems running smoothly, Advanced SystemCare Free can be a valuable addition to their toolkit. It helps tackle common issues that can lead to sluggishness and decreased performance. Additionally, the online resources and community forums provided by IObit can assist users in troubleshooting problems and optimizing their experience.
Ultimately, while IObit Advanced SystemCare Free offers a solid set of features, users who require more comprehensive functionalities or personalized support might consider exploring the paid PRO version or comparing it with other similar software options on the market. As technology and user needs evolve, IObit continues to play a role in the landscape of system optimization tools.
---
FAQs
What is Advanced SystemCare 16?
Advanced SystemCare 16 is a user-friendly yet comprehensive software designed to enhance the speed and security of Windows PCs while safeguarding users' privacy. The smart AI Mode provides the powerful 1-click approach to easily clean up junk files, sweep off privacy traces, remove spyware threats, manage startup items, accelerate Internet speed, and fix system vulnerability & security holes. Additionally, Advanced SystemCare 16 provides over 20 valuable tools, including Monitor, Win Fix, Internet Booster, Smart RAM, Large File Finder, Disk Cleaner, File Shredder, Software Updater, and DNS Protector. These tools collectively maximize the PC's capabilities, resulting in a cleaner, faster, and more secure system.
Is Advanced SystemCare 16 free or not?
Like all previous versions, Advanced SystemCare 16 has a free version. But you can upgrade to the pro version if you would like the advanced features.
Will Advanced SystemCare 15 still work after the release of Advanced SystemCare 16?
Yes, Advanced SystemCare 15 will still work.
Does it work well with other system utility optimization products? Can I use Advanced SystemCare 16 and have others running at the same time?
Yes, Advanced SystemCare 16 is compatible with most of software in the market. But it's not recommended to have more than one system utility in one PC.
What Windows versions can Advanced SystemCare 16 support?
Advanced SystemCare 16 is fully compatible with Windows 11 and runs smoothly on Windows 11, Windows 10, Windows 8 and 8.1, Windows 7, Windows XP, Vista and 2000.
Is there a possibility of a home license that covers all PCs within a household?
Yes, along with the ordinary 1-PC license, a home license for family users is offered as well. If you have any specific requests, don't hesitate to reach out to us at partner@iobit.com.
Is Advanced SystemCare 15 Pro license valid for Advanced SystemCare 16?
Yes, it is. Please note that the purchased license is valid for all future updates.
What's the hardware requirement of Advanced SystemCare 16?
Advanced SystemCare 16 can run smoothly on the computer with 512 MB of RAM, 1 GHz processor or faster processor, 300 MB of free hard disk space, 1024*768 screen resolution and above.
Images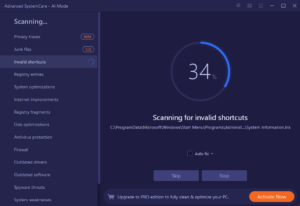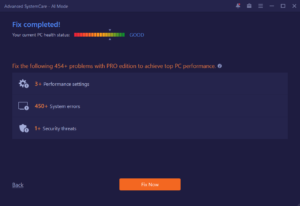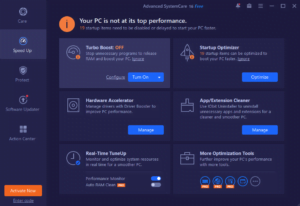 Download links
How to install Advanced SystemCare?
1. Tap the downloaded Advanced SystemCare.
2. Touch install.
3. Follow the steps on the screen.
Developer's apps