Home /
IObit Driver Booster
9.1.0.159
Simplify driver updates with IObit Driver Booster. Streamlined processes, improved performance. Elevate your PC experience without the hassle!
Developer
IObit
Updated
October 26, 2021
Size
25.6 MB
Version
9.1.0.159
Requirements
Windows 10/11, Windows 8/8.1, Windows 7, Windows Vista, Windows XP
Description
IObit Driver Booster Overview
IObit Driver Booster is a software utility designed to help users manage and update their computer's device drivers. Device drivers are essential pieces of software that allow the operating system to communicate effectively with hardware components such as graphics cards, sound cards, printers, and more. Keeping these drivers up to date can enhance system stability, performance, and compatibility.
Driver Booster simplifies the process of maintaining drivers by automatically scanning the system for outdated, missing, or incompatible drivers. Once the scan is complete, the software provides a comprehensive list of driver updates available for various hardware components. Users can then choose to update individual drivers or select the "Update All" option to update them all at once.
One of the notable features of Driver Booster is its database of over millions of device drivers. This extensive database helps ensure that users can find the most suitable and compatible driver updates for their hardware components. Additionally, Driver Booster offers a backup and restore feature, allowing users to create backups of their current drivers before updating. This can be useful in case a new driver causes issues and needs to be rolled back.
Driver Booster also includes features like driver rollback, which enables users to revert to a previous driver version if the newly updated driver causes problems. The software also offers a Game Boost feature that optimizes system resources for gaming, potentially leading to better gaming performance.
It's important to note that while Driver Booster can simplify the driver updating process, users should exercise caution and ensure they download drivers from reputable sources to avoid potential security risks. False positives and unnecessary updates can occasionally occur, so it's a good practice to research any driver updates before proceeding.
In summary, IObit Driver Booster is a utility that aims to simplify the task of updating device drivers for improved system performance and stability. It offers an extensive driver database, automatic scanning, and various features to help users manage their drivers effectively.
Key Features
Automatic Driver Updates: Driver Booster automatically scans and detects outdated or missing drivers on your system. It then downloads and installs the latest versions, ensuring your hardware components are up to date.
Large Driver Database: The software maintains an extensive database of drivers for a wide range of hardware devices. This helps you find the correct and compatible drivers for your specific hardware.
One-Click Updates: With a single click, you can update all outdated drivers at once, saving you time and effort.
Driver Backup and Restore: Before updating drivers, Driver Booster creates a backup of your existing drivers. This allows you to revert to the previous version if a new driver causes issues.
Driver Rollback: In case a newly updated driver causes problems, Driver Booster enables you to easily roll back to a previous driver version.
Game Boost: The Game Boost feature optimizes system resources to enhance gaming performance, ensuring a smoother gaming experience.
Scheduled Scans: You can set up scheduled scans to automatically check for driver updates at specified intervals. This helps keep your system's drivers constantly up to date.
Offline Driver Update: Driver Booster offers an offline driver update mode, allowing you to update drivers even when you're not connected to the internet.
Driver Exclusion List: You can create a list of drivers you don't want to be updated. This is useful if you have specific drivers that you prefer to keep at certain versions.
Silent Mode: When enabled, Silent Mode mutes notifications and pop-ups during gaming or other full-screen activities, preventing interruptions.
Enhanced Gaming Experience: Besides Game Boost, Driver Booster may provide driver updates that enhance compatibility with new games, improving graphics and performance.
Compatibility: The software is designed to work with various versions of Windows and a wide range of hardware components, ensuring broad compatibility.
User-Friendly Interface: Driver Booster features an intuitive and user-friendly interface that makes it easy for both beginners and advanced users to navigate and use the software.
Some Pros and Cons of IObit Driver Booster
Pros
Automated Updates: IObit Driver Booster automates the driver update process, saving users the time and effort required to manually search for and install drivers.
Extensive Database: The software boasts a vast driver database, increasing the likelihood of finding accurate and compatible drivers for a wide range of hardware components.
Backup and Restore: The ability to create driver backups and restore points provides a safety net in case a new driver update causes unexpected issues.
Game Boost: The Game Boost feature can enhance gaming performance by optimizing system resources, leading to smoother gameplay.
User-Friendly: The intuitive interface makes it easy for users of varying technical expertise to navigate and use the software effectively.
Scheduled Scans: Scheduled scans can ensure that drivers are regularly checked and updated without manual intervention.
Offline Driver Update: The option to update drivers offline is useful for situations where internet connectivity is limited.
Cons
Overzealous Updates: In some cases, Driver Booster might suggest updates that aren't strictly necessary, potentially leading to unnecessary changes to stable driver configurations.
Paid Version Pressure: The free version may encourage users to upgrade to the paid version by displaying promotional content more prominently.
Limited Control: While automation is a benefit, some users might prefer more control over which drivers are updated, which can be limited in the automated process.
Compatibility Issues: Although rare, there could be instances where a driver update causes compatibility problems with certain hardware or software.
Plans and pricing
The IObit Driver Booster offers a free version that anyone can download, but it comes with restricted features. To fully utilize the capabilities of Driver Booster, opting for the premium version requires a payment.
The premium version is accessible through an annual subscription, available in two distinct plans based on the number of supported PCs. A yearly subscription encompassing 1 PC is priced at $19.95, while the package for 3 PCs costs $22.95. Please note that these rates are discounted for first-time users. Subsequently, in the following years, the standard prices will apply, which are $40/year for 1 PC and $75/year for 3 PCs.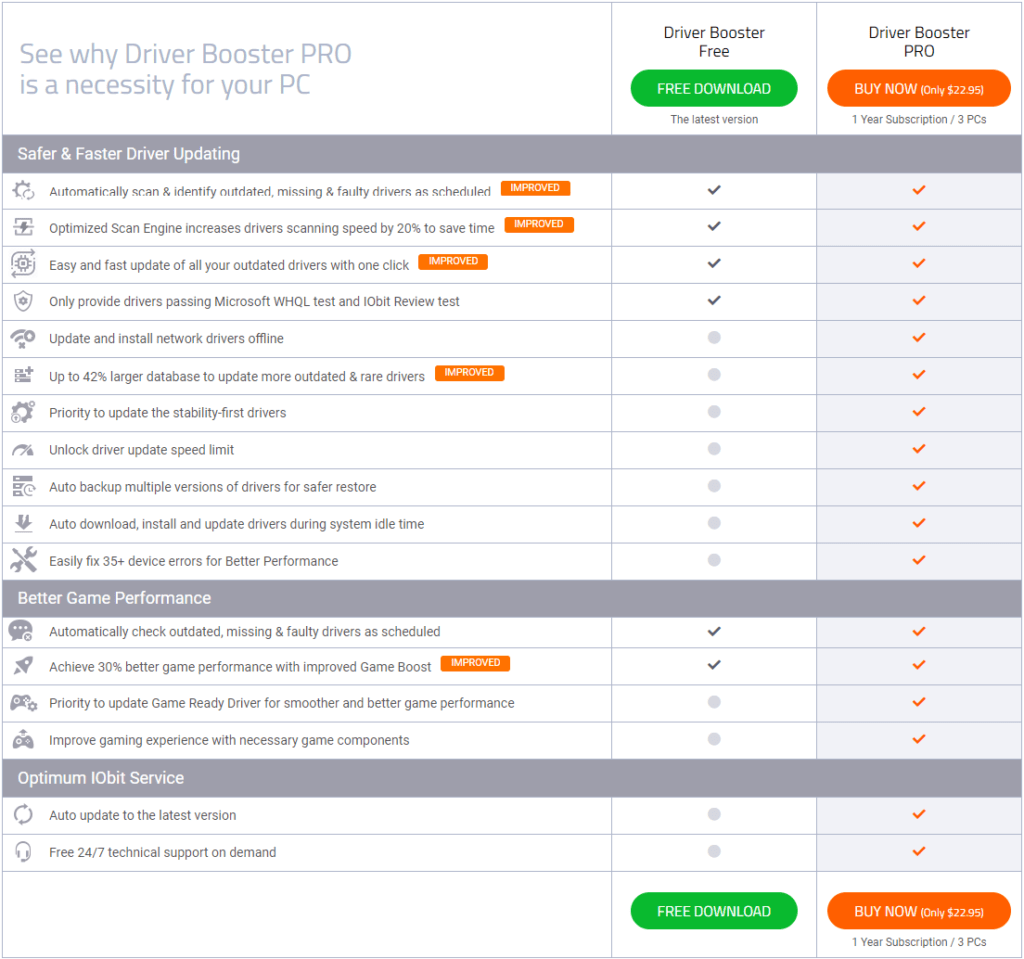 The premium version features a 14-day trial period that users can take advantage of. Additionally, IObit provides a 60-day money-back guarantee for all purchases.
User Interface and Usage
IObit Driver Booster typically features a user-friendly and intuitive interface designed to simplify the process of managing and updating drivers. Here's an overview of how the user interface looks and how the software is used:
Dashboard: Upon launching the software, you're greeted with a dashboard that provides an overview of your system's driver status. This includes information about outdated drivers that need updating.
Scan for Outdated Drivers: The software usually offers a "Scan" or "Start Scan" button prominently displayed on the dashboard. Clicking this button initiates a scan of your system's hardware components to detect outdated, missing, or incompatible drivers.
Scan Results: After the scan is complete, Driver Booster presents a list of drivers that need updating. The list typically categorizes drivers based on their status, making it easy to identify which ones require attention.
Update All or Select Individual Drivers: You'll likely have the option to "Update All" drivers at once or individually select the drivers you want to update. The software might indicate the version numbers of the existing and new drivers for comparison.
Driver Details: Clicking on a specific driver in the list usually provides more detailed information about the driver, such as its version, release date, and hardware compatibility.
Backup and Restore: Before updating drivers, Driver Booster often gives you the choice to create a backup of your current drivers. This backup can be useful if a new driver causes issues, and you need to revert to the previous version.
Game Boost and Tools: In addition to driver management, Driver Booster might offer additional tools, such as the Game Boost feature to optimize system resources for gaming.
Settings: The software typically includes a settings or preferences section where you can configure options such as scheduled scans, automatic updates, language preferences, and more.
Upgrade to Pro (Paid) Version: If you're using the free version, there might be prompts to upgrade to the Pro version for access to advanced features.
Notifications: During the driver update process, the software may provide notifications or progress indicators to keep you informed about the status of the updates.
Silent Mode: Some versions of Driver Booster offer a Silent Mode feature that mutes notifications during full-screen activities like gaming or watching videos.
User Support: There's usually an option to access customer support or online resources for assistance with any issues you encounter.
Support for IObit Driver Booster
IObit typically offers various support options to assist users with any questions, issues, or concerns they might have while using Driver Booster. Here's an overview of the support options you might find:
Online Help Center: IObit usually provides an online help center or knowledge base that includes frequently asked questions, troubleshooting guides, and step-by-step tutorials. This resource is a great starting point for finding solutions to common issues.
User Guides and Manuals: Depending on the version of Driver Booster you're using, there might be user guides or manuals available for download. These documents can provide detailed instructions on using the software's features effectively.
Community Forums: IObit often maintains user forums or communities where users can interact with each other, share experiences, and seek help. This can be a valuable resource for getting assistance from other users who might have encountered similar issues.
Email Support: Users might be able to reach out to IObit's support team via email. This can be useful for more specific or technical inquiries that require personalized assistance.
Live Chat: In some cases, IObit might offer live chat support through their website. This allows users to engage in real-time conversations with support representatives to address their concerns.
Social Media: IObit is likely to have an active presence on social media platforms where users can ask questions and get updates on software releases and features.
Customer Support Ticket System: Some versions of Driver Booster might provide a customer support ticket system, allowing users to submit their questions or issues directly through the software.
Remote Assistance (If Available): Depending on the nature of the issue, IObit's support team might offer remote assistance to help troubleshoot and resolve problems more effectively.
Competitors of IObit Driver Booster
DriverMax: DriverMax scans your system for outdated drivers and allows you to download and install the latest versions. It also offers features like driver backups, scheduled scans, and driver restoration.
Driver Talent: Driver Talent scans, downloads, and installs drivers. It also has a feature for creating driver backups and restoring them, along with additional tools for uninstalling drivers and repairing faulty driver installations.
Ashampoo Driver Updater: This tool scans for outdated drivers and offers the ability to update them. It also includes backup and restore options, along with a clear overview of driver status.
Driver Easy: Driver Easy simplifies driver updates by scanning for outdated drivers and providing one-click solutions for downloading and installing the latest versions. It also offers tools for driver backups and restoration.
Avast Driver Updater: Avast's tool scans for outdated drivers and helps you update them. It offers features like scheduled scans, driver backups, and restoration.
Final Words
In conclusion, driver management and updates are essential for maintaining optimal system performance, stability, and compatibility. Tools like IObit Driver Booster and its competitors offer convenient solutions to simplify the process of keeping your hardware drivers up to date.
When choosing a driver updating tool, consider factors such as the size and reliability of the driver database, user reviews, user interface usability, and additional features like backup and restore options. Always ensure that you download software from reputable sources to prevent potential security risks.
Regularly updating your drivers can lead to a smoother computing experience, improved hardware functionality, and enhanced performance, especially for activities like gaming. Keep in mind that while automated tools can be incredibly useful, it's still a good practice to exercise caution and verify updates before proceeding.
Ultimately, whether you choose IObit Driver Booster or one of its competitors, the goal is to streamline the driver update process and contribute to a more seamless and efficient computing journey. Remember to stay informed, utilize available resources, and make informed decisions to get the most out of your driver management software.
---
FAQs
What is Driver Booster 10?
Driver Booster 10 stands as an essential driver updater that has garnered the trust of Windows PC users worldwide for the last decade. This tool delivers a comprehensive solution for effortlessly detecting and updating over 8,500,000 device drivers and game components with a single click, ensuring they remain consistently up-to-date. Beyond its driver update capabilities, Driver Booster 10 serves as an all-in-one solution for restoring the system, examining system information, and resolving vexing issues such as no sound, network failures, poor resolution, and a myriad of other device errors.
Is Driver Booster 10 free or not?
There is a free version for the public. If you prefer more advanced features, it is suggested that you activate its PRO version.
Will Driver Booster 9 still work after the release of Driver Booster 10?
Driver Booster 9 will still work. However, we suggest users update to Driver Booster 10, for it has the larger database and better features.
Can I find my Driver Booster license code within Driver Booster 10?
Yes. It remains accessible throughout the subscription period.
Does Driver Booster 10 support Windows 10 and Windows 11?
Yes, it is fully compatible with Windows 10 and Windows 11. Driver Booster 10 also runs smoothly on Windows 8/ 8.1, Windows 7, Windows XP and Vista.
What are the minimum system requirements for Driver Booster 10?
Driver Booster 10 takes up little computer resources at running. Even, you can use it on the computer with 512 MB of RAM, 1 GHz processor or faster processor and 100 MB of free hard disk space.
How to update Driver Booster?
To access this feature in Driver Booster, follow these steps: Open Driver Booster > Click on the menu icon located at the top left corner > Choose "Check for Updates" from the drop-down menu.
Images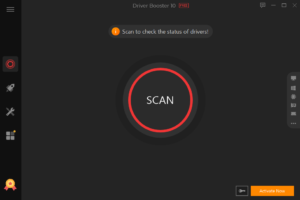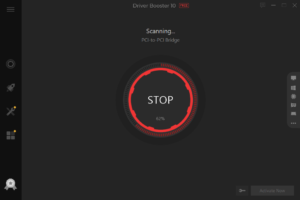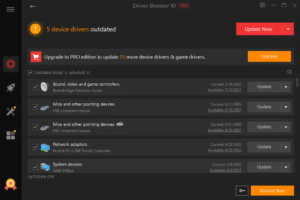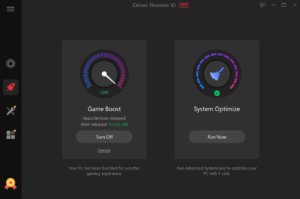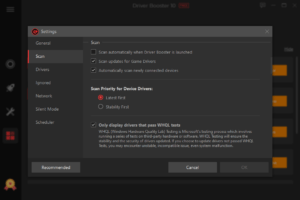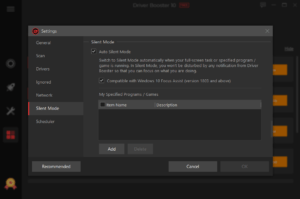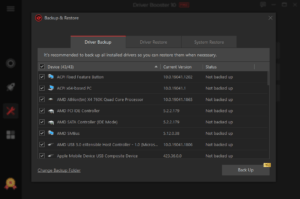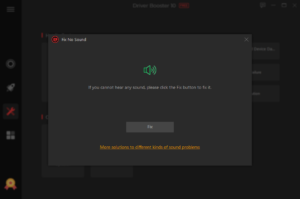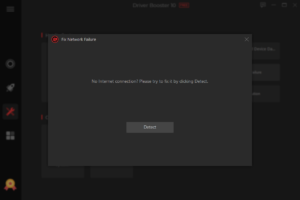 Download links
How to install IObit Driver Booster?
1. Tap the downloaded IObit Driver Booster.
2. Touch install.
3. Follow the steps on the screen.
Developer's apps