Home /
Avast
22.5.6015 Beta
Avast Antivirus is a popular computer security software that protects against malware, viruses, and other online threats. It offers real-time scanning, firewall protection, email and web browsing security, and additional features such as password management and secure file shredding.
Developer
AVAST Software
Updated
May 26, 2022
Size
0.25 MB
Version
22.5.6015 Beta
Requirements
Windows 11, Windows 10, Windows 8, Windows 7, Windows XP, Windows Vista
Description
Overview
Avast Antivirus is a comprehensive computer security solution designed to protect users from various online threats. It offers a range of features including real-time scanning, malware detection and removal, web browsing and email protection, and firewall functionality. Avast utilizes advanced algorithms and a vast threat detection network to identify and neutralize viruses, ransomware, spyware, and other malicious software. Additionally, it includes additional tools like password management, secure file deletion, and vulnerability scanning to enhance overall system security. Avast Antivirus is available for both personal and business use, offering a user-friendly interface and regular updates to stay ahead of emerging threats.
Main Features
Avast Antivirus offers several main features to ensure comprehensive computer security:
Real-time scanning: Avast constantly monitors your system in real-time, scanning files and programs for malware, viruses, and other threats as they are accessed or executed.
Malware detection and removal: The antivirus software detects and removes various types of malware, including viruses, Trojans, worms, ransomware, spyware, and adware, to keep your system safe and secure.
Web browsing protection: Avast safeguards your web browsing by detecting and blocking malicious websites, phishing attempts, and suspicious downloads, preventing you from inadvertently accessing harmful content.
Email protection: It scans incoming and outgoing emails for potential threats, such as infected attachments or phishing attempts, providing an additional layer of security for your communication.
Firewall functionality: Avast includes a built-in firewall that monitors network traffic, both incoming and outgoing, to protect your system from unauthorized access and potential attacks.
Password management: The software offers a password manager feature that securely stores your passwords, generates strong and unique passwords, and automatically fills them in when needed, ensuring strong password security.
Secure file shredding: Avast provides a secure file shredder that permanently deletes sensitive files, making them unrecoverable by unauthorized parties.
Vulnerability scanning: Avast scans your system for potential vulnerabilities, such as outdated software or weak system settings, and provides recommendations to patch or fix them, reducing the risk of exploitation by attackers.
Automatic updates: Avast regularly updates its virus definitions and software components to stay up-to-date with the latest threats and security enhancements, ensuring optimal protection for your system.
User-friendly interface: The antivirus software offers a user-friendly interface with intuitive controls and clear status indicators, making it easy to navigate and configure the various security settings.
Some Pros and Cons
Strong malware detection and removal.
User-friendly interface.
Wide range of security features.
Occasional performance impact.
Limited customer support options.
Alternatives
There are several alternatives to Avast Antivirus that you can consider:
Norton: Known for its strong malware detection and comprehensive security features.
Bitdefender: Offers excellent malware protection and minimal impact on system performance.
Kaspersky: Provides reliable malware detection and a wide range of security features.
McAfee Antivirus: Offers a combination of robust malware protection and additional features like identity theft protection and VPN.
Windows Defender: Built-in antivirus software for Windows 10, providing basic malware protection without the need for additional installations.
AVG: Offers a free version with decent malware protection, along with a paid version that includes additional features.
How to use it?
Download and Install: Visit AppToFounder and download the latest version of the antivirus software. Run the installation file and follow the on-screen instructions to install it on your computer.
Update: Once installed, ensure that Avast Antivirus is up to date. Launch the program, go to the "Settings" or "Preferences" menu, and locate the update section. Enable automatic updates or manually check for updates to ensure you have the latest virus definitions and software improvements.
Scan for Threats: Perform a full system scan to detect and remove any existing malware. Launch Avast Antivirus, navigate to the scanning section, and choose the option for a full system scan. Allow the scan to complete, and take action based on the scan results, such as quarantining or deleting detected threats.
Real-Time Protection: Avast Antivirus provides real-time protection by continuously monitoring your system for malware. Ensure that real-time scanning is enabled in the settings or preferences menu of the software.
Customize Settings: Explore Avast Antivirus settings to customize the software according to your preferences. You can adjust the scanning schedule, set exclusions for specific files or folders, configure web browsing and email protection, and fine-tune other security features based on your needs.
Keep Software Updated: Regularly check for updates for Avast Antivirus itself to ensure you have the latest features and security patches. Avast often releases updates to address new threats and enhance performance.
Stay Informed: Avast Antivirus may provide notifications or alerts regarding potential threats, updates, or other security-related information. Pay attention to these notifications and take necessary actions accordingly.
Final Words
Avast Antivirus is a reliable and feature-rich software designed to protect your computer from malware and online threats. With its strong malware detection capabilities, real-time scanning, web browsing protection, and additional features like password management, Avast provides comprehensive security for your system.
Remember to keep Avast Antivirus up to date with the latest updates and periodically perform full system scans to ensure maximum protection. Customizing the settings based on your preferences and staying informed about any notifications from the software will further enhance your security.
While Avast Antivirus offers numerous benefits, it's also worth exploring alternative antivirus software options to find the one that best suits your specific needs and preferences.
FAQs
Images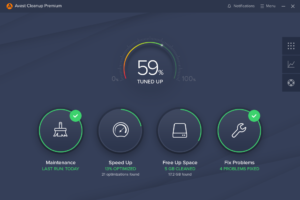 Download links
How to install Avast?
1. Tap the downloaded Avast.
2. Touch install.
3. Follow the steps on the screen.